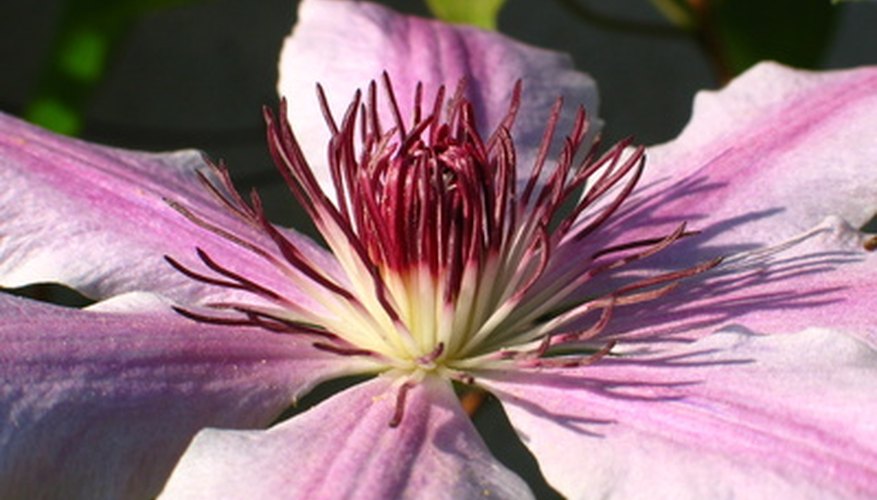 While perennials and annuals are the staple of a flower garden, don't forget climbing flowers. Adding flowers that will climb on a trellis or vine over a fence will create added interest, color and variety in a garden or landscape. Many climbing plants that flower will attract butterflies, bees and hummingbirds.
Clematis
Clematis is perhaps the most popular and well-known of all climbing plants. Clematis climbers may be evergreen or deciduous (depending upon the species), producing beautiful and vibrant flowers during the summer. Clematis likes to have its roots in the shade or covered with mulch or other plants while the flowers and top growth prefer full sun. This is an excellent plant for walls, fences, arches, trellises, arbors and pergolas. Clematis will also grow in containers as long as you provide a trellis of some type for the plant to climb on. Clematis needs frequent watering during periods of no rain. Clematis is a twining climber and is a perennial that will come back every year.
Morning Glory
Morning glory (Ipomoea) is a reseeding annual that is a tendril climber. Morning glory plants will climb on anything that is nearby--fences, arbors and other plants. The average height of a morning glory plant is around 10 to 12 feet. This plant needs full sun and the flowers will only bloom early in the morning then wilt by the time the heat of the day rises--hence the name, "morning glory." Morning glory can be invasive if not properly kept in line by thinning new seedlings that sprout.
Wisteria
Wisteria vines are fast-growing and long-lived climbers. Wisteria is deciduous and goes into a dormant phase during the winter only to re-emerge in the spring with a profusion of color that makes this plant highly desired by gardeners. Young wisteria vines can take up to seven years to flower, making this plant a long-term investment for the gorgeous payoff when it blooms. Wisteria usually flowers during May and June. The vine needs full sun but it will flower in partial shade. Wisteria flowers resemble clusters of grapes. Wisteria can grow to a height of more than 28 feet and features flowers than can range in color from white to pink to lilac-blue. There are numerous cultivars of wisteria.
Honeysuckle
Honeysuckle (Lonicera) is a well-known climber that can often be found growing wild. Honeysuckle is fragrant and the blooms make for colorful additions to a garden. There is a variety of colors for honeysuckle, including white, yellow, orange, scarlet and mixtures of the colors. Honeysuckle is deciduous but may be evergreen in warm climates. It is a twining climber and will usually bloom from mid-spring through late summer. Honeysuckle will grow on walls, fences, arbors, arches, trees and other climbing platforms.