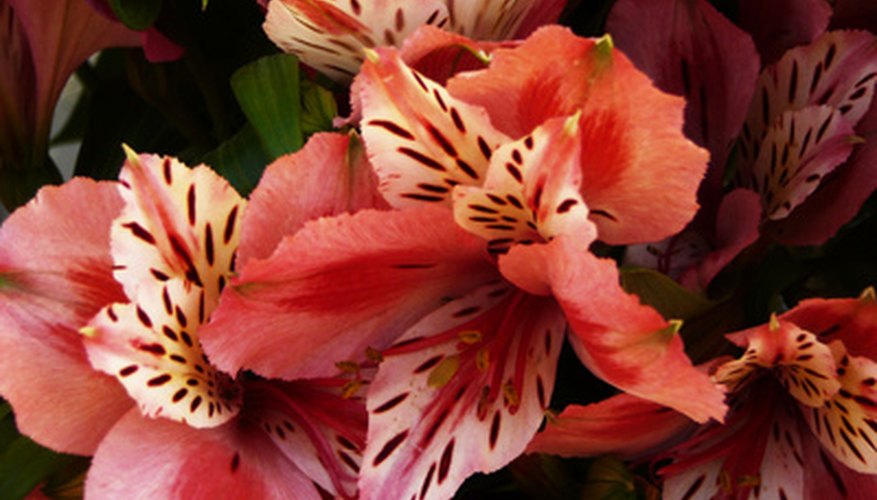 Alstroemeria (also known as Peruvian lily) is a plant that grows from tender bulbs, which are winter hardy to USDA plant hardiness zone 6. However, in zones 6 and 7, they should be covered with 4 inches of mulch in the fall to protect them from repeatedly freezing and thawing during the winter. Alstroemeria has long-lasting trumpet-shaped flowers in a multitude of colors, including white, yellow, brown and orange, and makes a nice addition to the home garden.
Find out what USDA planting zone you live in. Examine a hardiness zone map or search using your zip code on the National Gardening Association website.
Choose an alstroemeria hardy in your zone if you want to leave it in the ground all year. If you live in a colder zone than the bulbs are rated for, you must store the bulbs indoors during the winter months.
Decide when to buy alstroemeria. If it is hardy in your zone, purchase the bulbs in the fall. If it is not, purchase the bulbs in the spring for planting after the last spring frost, or purchase them in the fall when more varieties are most likely available, but you will have to store them indoors until spring.
Determine how many alstroemeria bulbs you need to buy to fill in your space. They are planted 10 inches apart.
Purchase the alstroemeria bulb from a nursery center, nursery catalog or online nursery. Buy a mix of colors for a more dramatic display, if desired. If you are picking out the bulbs in person, choose ones that are firm and plump.