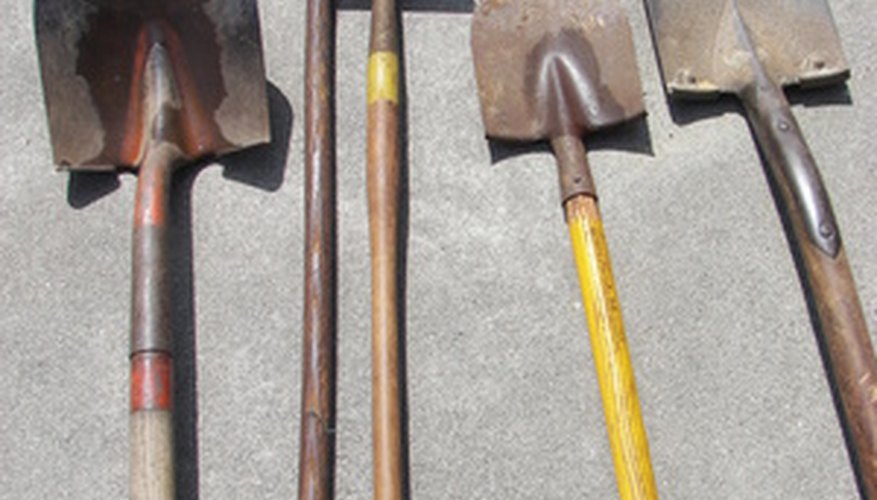 Gardening often provides hours of satisfaction and produces beautiful foliage and colorful, fragrant blossoms as well as edible fruits, nuts or vegetables for you or the local wildlife to enjoy. Garden tools assist you in doing a number of basic duties in the garden and some gardening tool designs are for specific tasks. Start out with the basic gardening tools and then add new tools as you need and can afford them.
Shovels and Spades
A shovel is a basic garden tool that comes in various forms for all types of gardening jobs ,such as digging, scooping, carrying, leveling and mixing. The shovels differ in the length and type of handle used (such as D-handles), plus the overall shape or design. Shovels for gardening include the round-nosed or round-point, garden shovel, irrigation shovel, square-nosed or square-point shovel and the scoop shovel. Transplanting spades are long, slim, and specifically designed for transplanting flowers and bushes.
Rakes
Garden rakes assist in numerous tasks and come in different sizes and types. A common garden rake is a lawn or leaf rake. Produced in plastic, metal or bamboo, these rakes collect light materials like leaves or grass. Bow rakes, made from steel and designed with a bow-shaped frame that provides strength, and works well with heavier materials. Garden or level head rakes supply a straight edge, in place of the bow-shaped frame that works well for leveling areas.
Cultivators, Forks and Hoes
Other basic gardening tools include various cultivators designed with strong curved tines or rotating blades, which mix up the soil and remove weeds around plants. Garden forks, known as barn forks, manure fork or pitchfork are used for lifting and moving loose materials. Spading forks that feature strong tines, work well for breaking up soil, digging bulbs, mixing compost or adding amendments to the soil. Garden tools known as hoes are used for weeding and preparing soil near plants or to clear the garden surface.