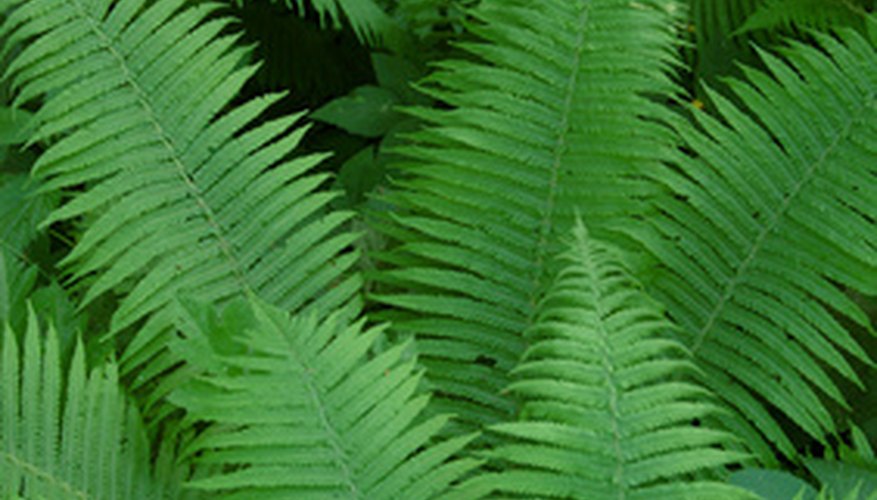 Landscaping around trees is notoriously difficult. In many cases, the shade from the tree makes it difficult for anything to grow immediately below. Meanwhile, the tree roots suck up available water and nutrients, starving even low-light plants below the base. Without the proper landscaping ideas, your trees may remain surrounded by a bland ring of dirt.
Ferns
Many ferns have evolved to live in the forest understory, where they receive very little light and have to tolerate the poor soil beneath the canopy of trees. For such hardy forest plants, thriving in the area around a tree is no problem. The hard fern or Blechnum spicant is particularly desirable for this purpose. It is an evergreen fern and many strains are cold hardy. It has rich, green fronds and grows well in many soil conditions. The giant Dryopteris filix, or male fern, is another choice which will thrive in the shade beneath the most dense folliage.
Picnic Spot
The shade of a tree is an ideal place to hold a summer picnic. Landscape to create an ideal picnic spot without impeding the flow of water by building a patio around its base. Create a broad stone border around the base of the tree and fill in the area with gravel. Add a picnic table and any other pieces of outdoor furniture you desire. Install a grill, a small firepit of both at a distance from the base of the tree. You will have a fine spot for afternoon barbecues and evening campfires.
Raised Beds
The soil directly under trees is often compacted and riddled with roots, making it difficult to grow anything. Counter this by surrounding your tree with raised flower beds. Grow flowers in raised planters in a ring around the tree or group of trees where they will receive several hours of sun a day. Cover the area directly below the trees with a tough ground cover such as ivy. If you use a climbing ground cover such as English ivy, mulch around the base of the tree to discourage the ivy from climbing it and check the tree at least twice a year to cut back any ivy that gets a hold on the trunk. You have now turned the useless area beneath your tree into a shady garden.