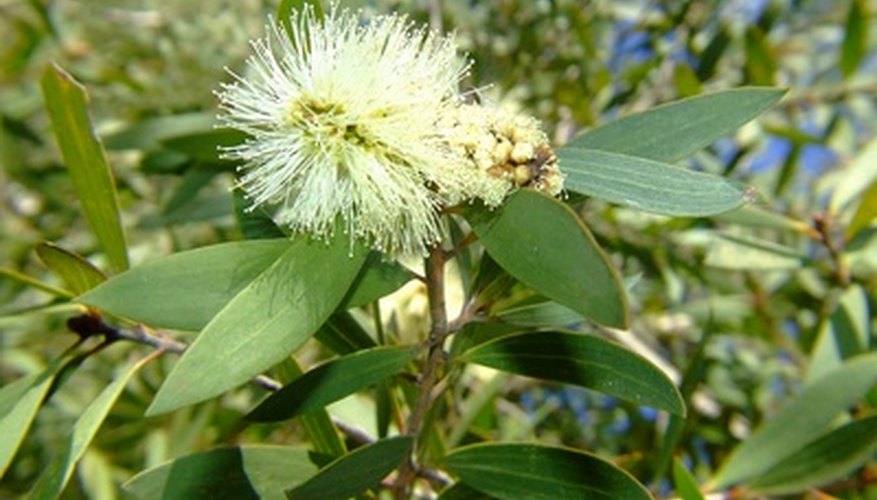 The unusual and intricate blossoms of the bottlebrush shrub give this deciduous shrub its name. With its long and slender blossoms that resemble a dishwashing tool, the bottlebrush shrub blossoms early in the summer and then goes on to provide a stately green presence in a sunny landscape. When you have a thriving bottlebrush shrub, consider propagating it to create more shrubs for your landscape. Start bottlebrush from cuttings in the middle of the summer and you can make new shrubs to plant or give away.
Cut off a 6-inch stem from a thriving bottlebrush shrub in the middle of the summer. Cut the stem just below a leaf node with the pruning shears. Clip off the leaves from the bottom half of the stem with the pruning shears.
Fill the a 4- to 6-inch planting container to the top with potting soil. Mist the soil with the spray bottle to moisten it completely. Poke a hole in the center of the potting soil with your finger.
Dip the bottom 2 inches of the stem in the rooting hormone and immediately insert the cutting into the potting soil. Push the stem between 2 and 3 inches into the potting soil and firm the soil around the stem with your fingers to keep the stem standing upright.
Insert a small stake into the potting soil, approximately 2 inches away from the cutting. Place the plastic bag over the container and secure the bag to the container with a rubber band.
Place the container in a location with temperatures of approximately 70 degrees F and where the container will receive indirect sunlight. Remove the bag every day and spray the soil thoroughly to keep the soil moist. Replace the bag after watering.
Check for signs of rooting after two to three weeks. If you see new growth on the stem, new roots are forming beneath the soil. Pull the bag away from one side of the container after you see indications of roots. Continue to water the soil every day with the spray bottle.
Remove the bag entirely from the container after another week. Keep the container in its growing location for one more week and then plant the new bottlebrush shrub outdoors in a sunny growing location.