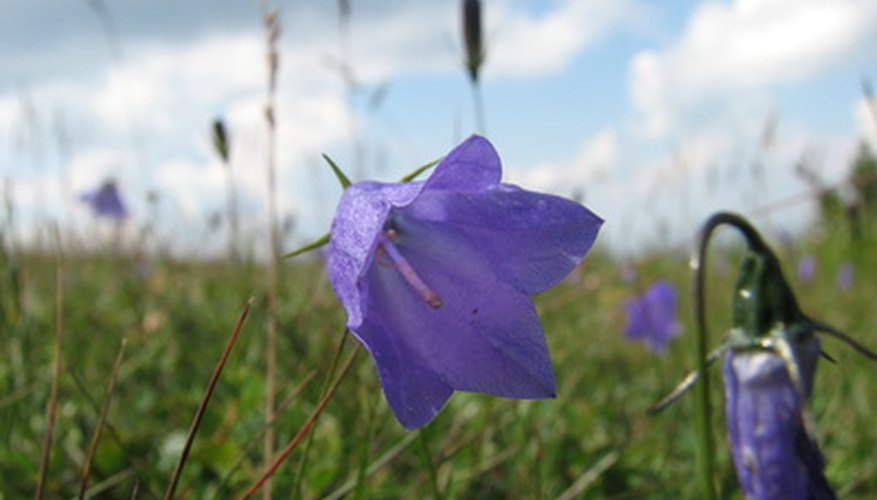 Blue flowers come in all shades, from the lightest pastel to the darkest sapphire. As you encounter these striking blossoms in the wild or even in your own landscape, know how how to pinpoint the variety. This way, you have the option of encountering these plants when they are in bloom again and will know how take care of them if the flowers have decided to share your property. By marking down some key characteristics, identify the blue flowers of your choice using an online resource.
Wait for the blue flowers to be in bloom and then make a note of the month(s) that you see them. Some flowers blossom during both the spring and summer months, while others bloom just once a year.
Examine the colors of the flower petals. Are the blossoms all one dark blue shade like those of the California bluebell, or do the flowers have a white center like those of the Texas bluebonnet?
Write down the shape characteristics of the blue flower petals. Some blossoms, such as those of the morning glory, have one large petal, while others, like those of the annual 'Arroyo' lupine, have multiple pointed petals.
Note the growth pattern of the blue flowers on the plant. Are the blossoms growing in tight cluster like those of the Lacy Phacelia, or do they grow on their own own stems like those of the blue flax?
Launch the United States Department of Agriculture (USDA) "Advanced Search" page (see Resources). Enter your findings by selecting the options in the text boxes. Click the "Display Results" button at the bottom of the page and then click through the resulting links to identify your blue flower.