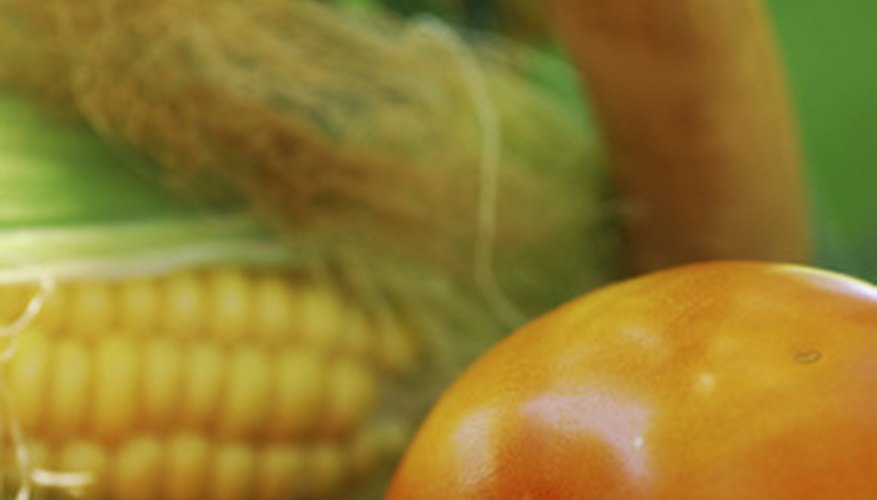 Community gardens are part of a growing trend in self-sufficiency and the desire to eat locally grown produce. Hundreds of community gardens thrive nationwide, according to the American Association of Community Gardens, and the phenomenon has a successful history in the United States. In the late 1800s, cities offered garden plots to out-of-work families. In the early 1900s, Liberty gardens helped people grow food to show support for the country during World War I. Today, community gardens provide healthy food, exercise and an opportunity to express cultural traditions.
Children's Community Garden
Children do not often see things made or grown these days. Vegetables come from supermarkets in plastic bags. A children's community garden provides the opportunity to change that perception in fun and educational ways. Children, especially younger ones, love gardening. The garden offers a legitimate place to play in the mud.
To make a community garden child-centric, add special areas for vegetables that combine to make some of their favorite foods. A pizza garden, for example, might have tomatoes, basil and oregano, with a couple of pepper plants and onions. Shape the garden as a circle with eight "slices." Other child garden ideas include a salsa garden, a casserole garden and a place to grow earthworms.
Make the children's garden gently educational by teaching basic information on soil, plant care and harvesting. The Junior Master Gardeners program is sponsored by the Texas AgriLife Extension Service of Texas A&M University in partnership with AmeriCorps, National Wildlife Federation, Master Gardener Associations and others, and offers curriculum materials for children and teachers.
Low-Income Community Garden
Fresh produce enhances nutrition by providing vitamins, minerals and fiber, not to mention tasty meals. However, fresh supermarket produce adds an expense above the budgets of many low-income families. Working in a garden to grow your own food supports healthy eating and provides an opportunity for organizers to educate about nutrition, health and cooking.
To create a low-income community garden, it helps for residents to collaborate with local government and private organizations. In addition to land for the garden, you need supplemental water availability, along with plants and tools. In cities, gardeners usually need to obtain permits from the government to use land for a community garden. Other issues requiring the attention of organizers include transportation, security, supervision and education, fund-raising and building partnerships.
Neighborhood Garden Plot
Many U.S. localities have land dedicated for community gardening by individuals. Do some research to find a neighborhood garden near you. Check with your City Hall or contact the county extension agent to locate options for leasing space and growing your own food. When you have a likely candidate for a community garden, drive by and see the activity, land and security around the property. Select a plot, stake it out, and then plant, water and care for plants during the growing seaon. The harvest belongs to you. Some amenities of a community garden project include initial tilling and soil preparation, and availability of mulch and water.