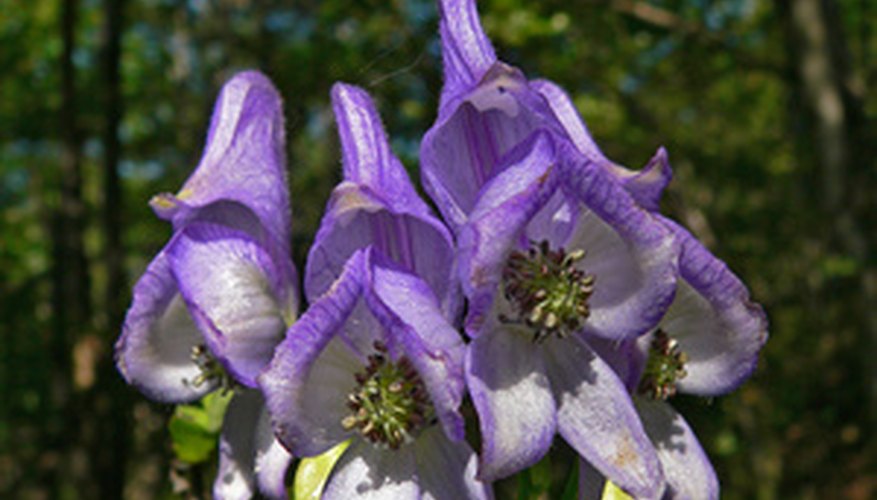 As August arrives and the end of summer approaches, many of your blooming garden plants may have already passed their peak. Early-blooming annuals may be low on the energy they need to produce flowers and seeds. While summer perennials may continue to perform, most have limited flowering periods. Keep your garden going with a few plants that start to flower during the dog days of late July or early August and continue until frost.
Monkshood
A tuberous perennial hardy to minus 40 degrees F, monkshood (Aconitum carmichaelii) grows up to 3 feet high and 30 inches wide. Blooming in August and September, it has thick, dark-green, lobed leaves. Its stiff, leafy stems bear heavy 8-inch spikes of blue flowers. Helmet-like upper sepals--the parts of the flower directly underlying its petals--account for the plant's name. Largely insect- and disease-resistant, monkshood is susceptible to powdery mildew, crown rot and wilt. Plant it in full sun to partial shade. Monkshood needs consistently moist, well-drained, organically rich soil. All parts of this plant, according to the Missouri Botanical Garden, are poisonous. Protect any breaks in your skin and wear gloves when you handle it.
Swamp Milkweed
Swamp Milkweed (Asclepias incarnata), another perennial hardy to minus 30 degrees F, grows wild in wet meadows, swamps and bottomlands throughout the eastern United States. Standing 4 to 5 feet high and up to 3 feet wide, it has branched stems with narrow, pointed 3- to 6-inch green leaves. In July and August, fragrant clusters of tiny mauve or pink flowers appear. They bring butterflies to the garden. Use this plant, recommends the Missouri Botanical Garden, in a butterfly garden, border or along a stream bank. It's happiest in moist to wet, well-drained soil and full sun.
Aster "Wood's Purple"
Aster "Wood's Purple" is a highly disease-resistant, compact perennial hardy to minus 30 degrees F. Growing up to 18 inches high and wide, it's an attractive mounding plant with glossy, deep-green foliage. In August and September, according to the Missouri Botanical Garden, Aster "Wood's Purple" has 1/2-inch, yellow-centered purple or bluish-purple blooms. This aster works in sunny borders or containers. It handles poor soil but does best in a well-drained, averagely moist location and sand or clay.
Blazing Star
Blazing star (Liatris aspera) is a 2- to 3-foot clump-forming perennial hardy to minus 40 degrees F. Native to the dry prairie and meadow soils of eastern North America, it has narrow, lance-shaped, 12-inch leaves. From August to October, blazing star's upright stems have dense spikes of fluffy, pinkish-purple blooms. They make excellent cut flowers, according to the Missouri Botanical Garden. Plant heat- and drought-tolerant blazing star in full sun and well-drained, dry to averagely moist soil.