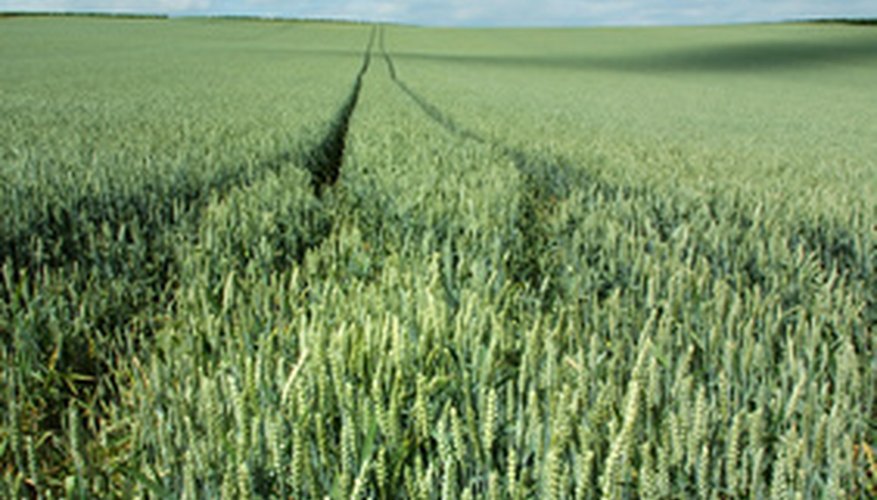 green field of rye image by Olga Shelego from Fotolia.com
There are two types of rye grass: annual and perennial. Perennial rye grass has a finer leaf texture, doesn't produce grass stains as easily, and can survive the hot summer, as long as the summers aren't too severe. Whether you are killing your rye grass to allow a warm-season grass to take over for the summer, or whether you simply want to change grass types, you can rid yourself of your rye lawn.
Set your mower to 1/2 inch and mow your lawn, scalping as much of the rye grass as possible.
Stop watering your lawn for two weeks and cover the rye grass with a clear plastic sheet, if practical. Weigh down the edges. This will prevent the grass from receiving any new moisture and if the sun is hot during the day, the plastic sheet will bake the rye and quickly kill it. Rye grass dies easily without water.
Rake your lawn with a thatch rake after the rye has withered and died from lack of water. Remove as much of the dead grass as possible, leaving bare earth in places.
Use an herbicide formulated for rye grass if your rye continues growing after being deprived of water for two weeks. Read label directions carefully and apply only if the herbicide will not kill the grass you wish to keep. Do not spray any herbicide on a windy day or if rain is predicted in the next 24 hours. Cover any plants you do not wish to kill.
Things You Will Need
Lawn mower

Clear plastic sheet

Thatching rake

Herbicide (optional)
Tip
Unless you live in an area with mild summers, even perennial rye grass will naturally die after one to three years.