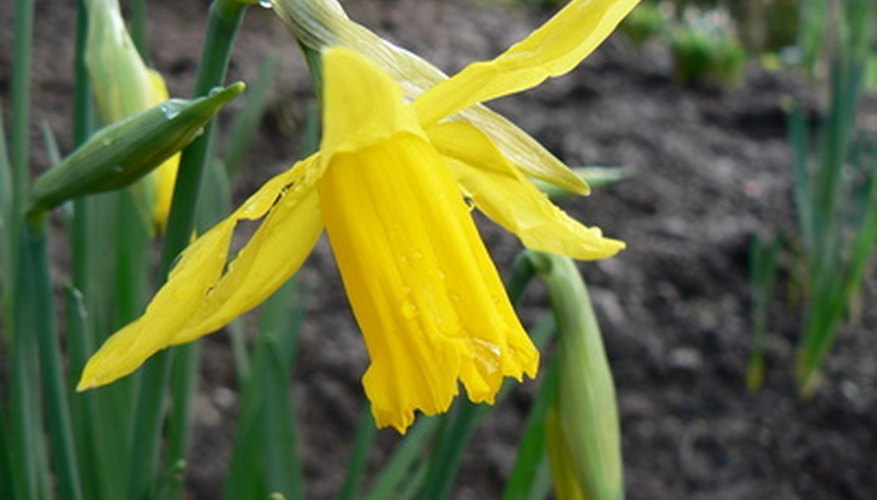 Daffodils are among the most popular of spring flowering bulbs. With their cheerful bright yellow blossoms and ease of growing, it's no wonder this European native is grown around the world. In temperate climates, you can leave daffodil bulbs in the ground for two or three years, but if your winters bring hard frost and snow, you must dig your daffodil bulbs every fall and store them to prevent them from freezing in the ground.
Wait until the leaves of your daffodils turn brown after the summer blooming season. You can wait until your first fall frost kills them if you want.
Dig your daffodil bulbs carefully to avoid damaging them with your spading fork or shovel. Insert your fork or shovel into the ground about 3 inches from where the foliage emerges from the bulb and then loosen the soil all around the bulb. Pull it gently from the ground, including as many roots as possible.
Rinse your daffodil bulbs with a stream of water. Do not allow bulbs to soak in water. This is a good time to separate large bulbs from each other. Gently break them apart with your hands and avoid using sharp instruments, which can damage the bulbs. Throw away any rotten or soft bulbs and save only large, firm bulbs.
Dry the bulbs you have selected for two to three days at 60 to 70 degrees F. Keep your daffodil bulbs in a dark area that is safe from wind. When they are dry, brush off any soil that might remain on them with a towel.
Put your dry, clean bulbs into a clean bag or pillowcase. Store it in a dry area with good air circulation, where the temperature remains between 35 and 40 degrees F the entire winter.