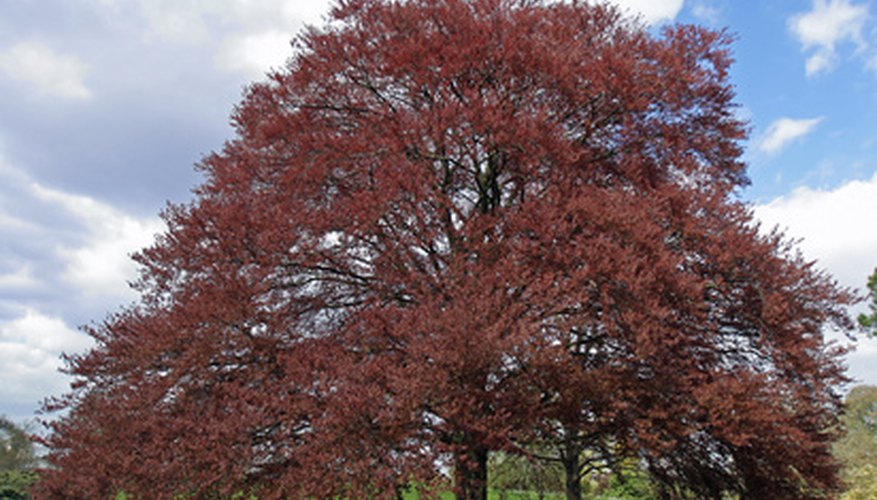 All 10 species of beech tree are found in the temperate regions of North America, Europe and Asia. Deciduous trees, beeches are commonly found in hardwood forests. The timber is used for flooring, furniture and fuel. A slow growing tree, the beech tree is susceptible to forest fires and beech bark disease. Varieties of beech include the American beech, the European beech and the Japanese beech.
American Beech
The American beech normally grows to a height of 65 to 80 feet, according to the U.S. Department of Agriculture Forest Service, but can reach a height of 130 feet. The tree is found along the eastern half of the U.S. west to Michigan, and south from Maine to east Texas. When damaged, the tree can regenerate itself. The thin bark is light gray and smooth. The dark green leaves are elliptical with a pointed tip. Seeds are produced after the tree turns 40, sprouting during the early spring to the summer. The nuts are eaten by both birds and mammals, including squirrels, ducks and bears. The tree provides shelter to birds such as the chickadee.
European Beech
The European beech was brought to the U.S. in the 1600s, according to the National Wildlife Association's "Field Guide to Trees of North America." There are 20 varieties of the European birch, including the copper beech, which has red-purple leaves that turn purplish black in the summer, and the weeping beech, which has pendulous branches that reach the ground. The tree grows to a height of 50 to 70 feet. The trunk is short and ranges in diameter from 2 to 4 feet. The bark is silver gray to dark gray blue. The bark of mature trees is knotted. The dark green leaves are oval shaped and the edges are rounded. In the fall, the leaves turn yellow, orange-brown and reddish gold. The dark brown nut ripens in the fall.
Japanese Beech
The Japanese beech is also called the Siebold's beech, after the German doctor who first identified the tree in Japan. The tree was brought to the United States in the late 1800s and is planted as a specimen tree in USDA hardiness zones 4 to 7, according to "The Illustrated Encyclopedia of Trees of the World," by Tony Russell, Catherine Cutler and Martin Walters. The tree reaches a height of 100 feet. The bark is silver gray and smooth. The dark green, oval leaves turn yellow in the fall. The husk of the seed is covered in hair.