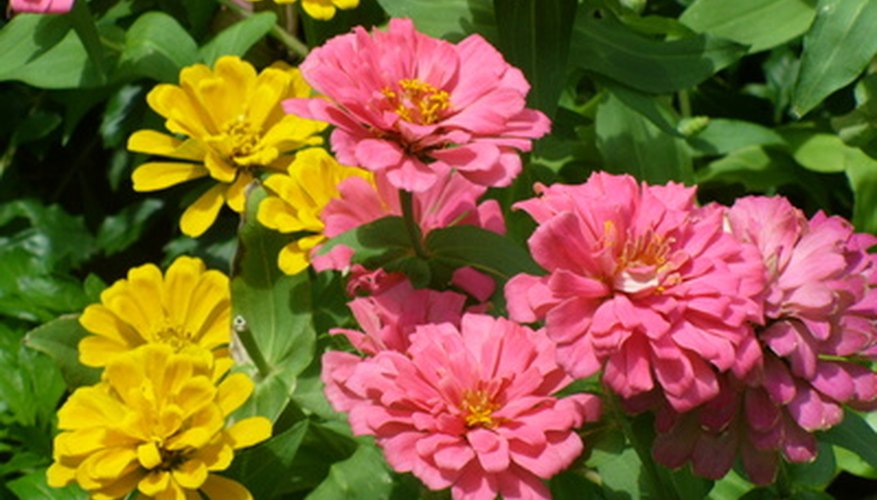 As the hot rays of sun shine down upon the landscape, many summer-blooming plants emerge to light up the garden with their bright blooms and foliage. Good plants for summer are drought-tolerant to withstand periods of limited moisture and don't require a lot of additional care. Planted within a perennial garden or lining a garden walk, summer plants create a constant source of color and vibrancy in the garden.
Zinnia
Zinnia (Zinnia elegans) is a hardy summer-blooming annual flower that grows in all USDA zones. Their bright and colorful 2-inch wide blossoms grow in a wide range of colors including, red, orange, pink and yellow. Zinnia blossoms range in form from single to semi-double and double. They reach a maximum height and width of 3 feet and have a rapid growth rate to fill out a summer garden quickly. The bushy foliage and tall, erect stems create the clumping growth habit that zinnia is known for. Zinnia is both deer- and drought-tolerant, creating an unfussy and low-maintenance summer flower. They grow best in full sun and fertile, well-drained soil. To promote a long blooming season on zinnia, deadhead or remove the spent flower blooms as soon as they are visible.
Black-Eyed Susan
Black-eyed Susan (Rudbeckia hirta 'Indian Summer') is a perennial flower that's suitable in USDA zones 3 to 7. They grow up to 3 feet tall and have a spread of 6 to 12 inches wide. Black-eyed Susans bear large flowerheads, up to 9 inches wide, which are golden yellow and bloom in masses to create a showy summer garden. Surrounding the petals of black-eyed Susan are the black to brown centers or cones that attract birds and butterflies to the garden. Black-eyed Susan flowers bloom in summer to last into fall, creating a long blooming season. To promote constant flowering, deadhead the spent flowers. Black-eyed Susan requires full sun only and well-drained, moist soil.
Blue Fescue
Blue fescue (Festuca glauca 'Elijah Blue') is a variety of ornamental grass that grows in USDA zones 4 to 8. It grows 6 to 12 inches tall and wide and has an upright, clumping growth habit. Known for its ability to withstand periods of limited moisture, blue fescue is drought-, deer- and frost-tolerant. It is a good low-maintenance summer plant that has a finely textured, dense and tufted mound of foliage that makes it an striking accent plant or ground cover plant. Blue fescue is known for its 8-inch-long powdery blue foliage that produces a blue flower in summer. It requires full sun and well-drained soil to thrive.