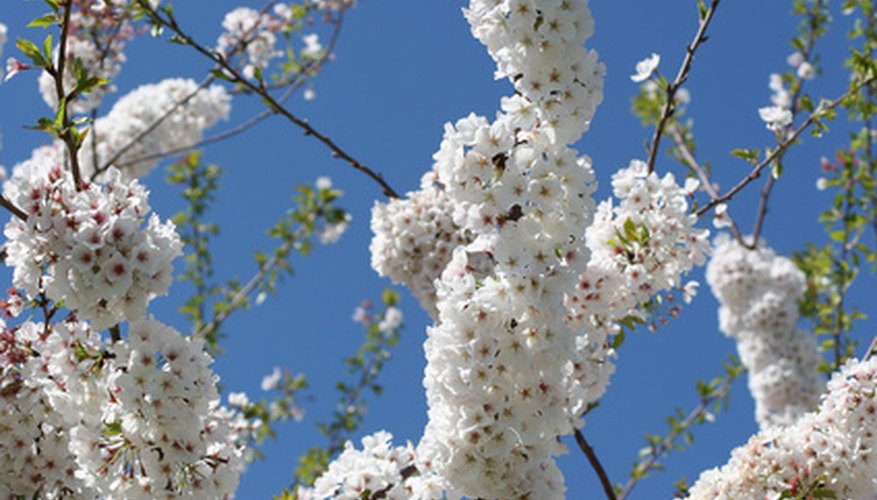 Weeping cherries have branches that arch gracefully from the trunk upward until they turn downward toward the ground under their own weight. Branches of weeping cherries can eventually reach ground level, creating a globe-like tree. However, many people prune the branches above ground level to make mowing and maintenance easier.
Varieties
The Higan cherry, sometimes called the Higgins cherry, is a Japanese weeping cherry called Prunus subhirtella. This weeping cherry is native to Japan and can grow to between 20 feet and 40 feet tall. The spread of this tree is generally equal to its height. When bought from nurseries, young Higan cherries are usually grafted at about 6 feet tall. The Higan grows single, pink cherry blossoms that are about 1/2 inch in diameter. They are usually in groups of two to five flowers. There are a number of cultivars of the Higan that differ in height and flower type. Some cultivars, such as the Rosy Cloud, has larger, double flowers.
Another variety of weeping cherry tree is the Snow Fountain. The Snow Fountain is a smaller weeping cherry that grows to between 6 and 12 feet tall. It is about the same spread as its height. The flowers of the Snow Fountain are white. However, it can sometimes have a few small red flowers.
Hardiness
Weeping cherries, like many other cherries, are cold hardy down to United States Department of Agriculture (USDA) hardiness zone 5. They are usually recommended for zone 5 through 8, but can sometimes grow in warmer zones. When planting in zone 5, be sure plant early to allow the tree to establish. The Higan can sometimes have trouble with the graft union in colder parts of zone 5.
Soil
Weeping cherries are tolerant of different soils. Although they do best in average soils that drain well, they can grow in compacted soils, dry soils or rocky soils. However, trees planted in better soils will grow larger than those in moderate or marginal soils.
Light
Weeping cherry trees grow best in full sun. They can, however, also grow in partial sun. Some varieties, like the Snow Fountain, can have bacterial problems if grow in partial shade or shade. Trees that get more sun will often grow better than those that only get partial sun.
Mulch & Water
How much water your tree will need depends on its size and age and your local growing conditions. Small to medium trees (trees with a trunk diameter of less than 4 inches) need about an inch of water per week. Newly planted trees need more water and more frequent water. Mulch around your weeping cherry to help the soil retain water and to help reduce problems with weeds around the tree.