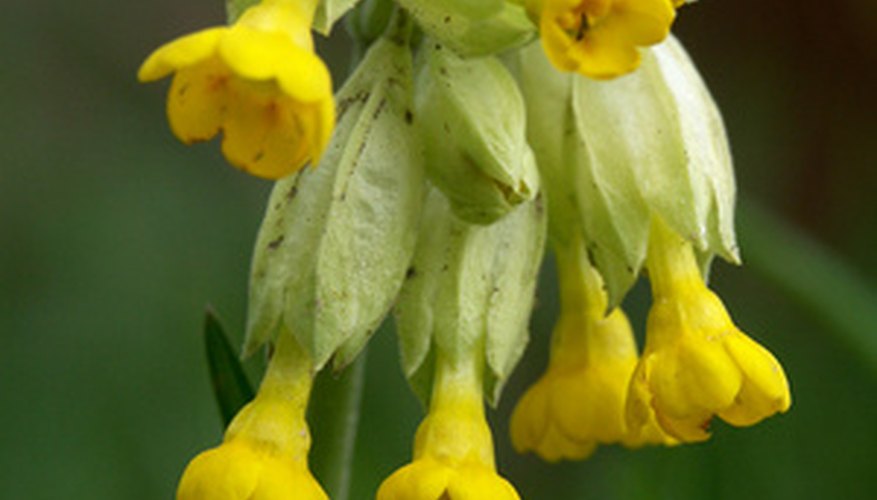 Many gardeners become needlessly discouraged at the thought of shade gardening, says the University of Missouri Department of Horticulture's Associate Professor Christopher J. Starbuck, Ph.D. A large number of outdoor plants are quite happy in low-light conditions. Many of them, in fact, require locations out of direct sun. As long as they don't have to compete with nearby trees for moisture and nutrients, they'll brighten those dim areas for years.
Oregon Grape
Oregon grape (Mahonia aquifolium), a broadleaf evergreen shrub, grows wild in the woods and coniferous forests of America's Pacific Northwest. Hardy to minus 20 degrees Fahrenheit, it stands 3 to 6 feet tall and up to 5 feet wide. Compound 10-inch leaves, reddish when young, mature to glossy, deep green in summer. They provide purple autumn color and brighten the garden with winter shades of burgundy. Shrubs have bright yellow spikes of fragrant April flowers. Edible berries ripen to blue-black in autumn. They make tasty preserves, according to the Missouri Botanical Garden.
Largely pest- and disease-resistant, Oregon grape is susceptible to leaf scorch, rust, scale and aphids. Use it as a group planting, in shrub borders or as a foundation planting. Provide partial shade and protection from full sun and heavy wind. It likes rich, moist, well-drained, acidic (pH below 7.0) soil.
Virginia Bluebells
Virginia bluebells (Mertensia virginica), a low-light perennial hardy to minus 40 degrees Fahrenheit, grows wild along floodplains and in moist woods through the eastern United States. It forms upright, 1- to 2-foot tall clumps of oval, greenish blue leaves. In March and April, Virginia bluebells' nodding clusters of pink buds open into 1-inch, pale blue bell-shaped flowers. By midsummer, the leaves die back and the plants become dormant. Use Virginia bluebells, suggests the Missouri Botanical Garden, as a rock garden plant or massed in woodland or native plant gardens. Mix it with ferns that will fill in when the bluebells die back. Give it part to full shade and moist, rich, well-drained soil.
Bulle's Primrose
Bulle's primrose (Primula x buleesiana) is a candelabra primrose hybrid standing 18 inches to 2 feet high and up to 18 inches wide. Hardy to minus 30 degrees Fahrenheit, it's a good low-light plant for moist areas where summers are cool. It has a basal clump of oval or lance-shaped green leaves. In June and July, according to the Missouri Botanical Garden, its leafless stem has a tight cluster of three to six flowers. Bloom colors include salmon, terra-cotta, lavender, orange, red and purple. Plant Bulle's primrose in partial to full shade and consistently moist, rich, well-drained soil. Use it in rock gardens, beneath trees or along ponds or streams. Provide root-cooling spring and summer mulch.