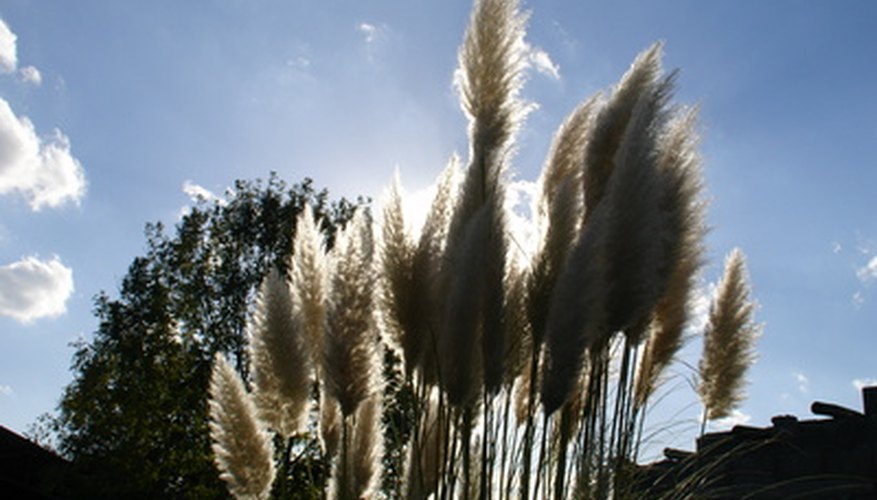 Pampas grass (Cortaderia selloana) is a large perennial grass native to South America. Its name is in honor of Friedrich Sellow (1789-1831), a German traveler and naturalist who collected plant specimens in Brazil and Uruguay. Pampas grass is a large ornamental plant prized for its tall, feathery flower plumes.
Form
Pampas grass is a large, clump-forming, perennial grass 6 to 8 feet in height with equal spread. It is a vigorously growing grass with drooping simple leaves 5 to 7 feet long. Pampas grass forms dense clusters with 1- to 2-foot-long flower plumes held 1 to 3 feet above its leaves. Its flower plumes are silvery white with a pink blush and are showy from summer until midwinter.
Selected Cultivars
One cultivar, Rendatleri, has large purple-pink plumes and is hardy to USDA zone 8. Aureolineata (Gold Band) grows 6 feet tall with green- and yellow-striped leaves and is suited to container growth. Pumila is a dwarf pampas grass growing 3 to 6 feet tall and is cold-hardy to zone 7.
Uses
Pampas grass is an attractive and showy specimen plant and fits well with seaside landscapes. It is useful as a barrier or windbreak planting, but its large size and vigorous growth make it unsuitable for small landscapes. In California, pampas grass is grown commercially for use in dried arrangements.
Cultivation
Grow pampas grass in full sun for optimum blooming, but partial shade is tolerated. Pampas grass grows in most soils except those that are very wet. It is drought-tolerant and withstands salt spray. Cut back pampas grass to 18 inches high after blooms fade in late winter. Plant pampas grass 6 to 8 feet apart in mass plantings. Propagate by seed or by clump division.
Problems
Pampas grass is difficult to remove once planted. Its leaf edges are sharply serrated, making it a possible hazard if children play and fall into it. No serious pests are normally seen on pampas grass, according to University of Florida Extension.