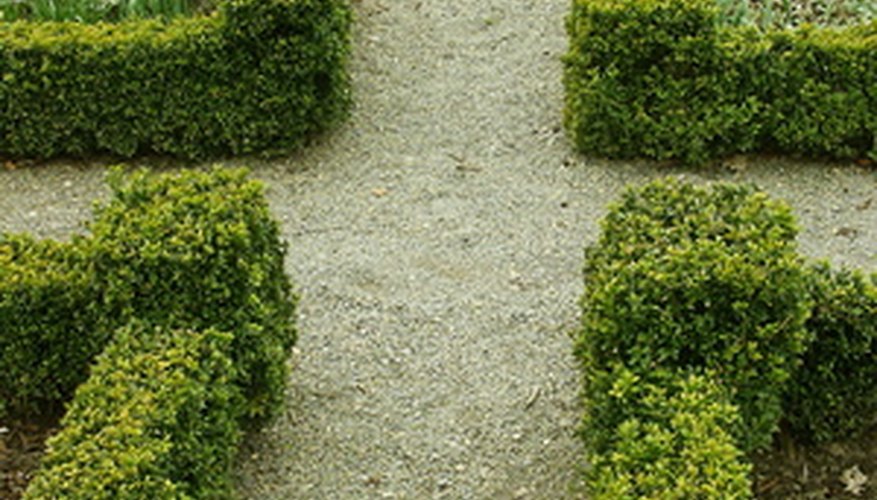 Low-growing landscape plants can be the answer to several gardening problems. A low hedge, for example, can discourage neighborhood children or pets from using your yard as a shortcut without obstructing your view. Low-growing bedding plants make attractive accents planted in front of taller perennials shrubs or beneath trees. Many low-growing landscape plants make attractive ground covers in areas where grass struggles.
Boxwood "Paramus"
Boxwood (Buxus sempervirens) is a broadleaf evergreen shrub hardy to minus 10 degrees F. The slow-growing "Paramus" boxwood cultivar achieves a height and spread of 2 feet over 10 years. Plants have elliptical, bright green leaves. Their small, inconspicuous white flowers appear in April and May. "Paramus," according to the Missouri Botanical Garden, is a largely pest-and-disease-resistant shrub. It occasionally develops leaf spot or blights and may suffer root rot where drainage is poor.
Use it as a foundation planting, low hedge or edger, accent or bonsai plant. It performs best in partial shade and a well-drained, moist sandy loam on the slightly acidic to slightly alkaline (pH between 6.8 and 7.2) side. Provide plants with a 1- to 2-inch mulch and good air circulation. Clear snow from the branches promptly to prevent breakage.
Joseph's Coat
Perennial Joseph's coat (Alternanthera dentate) is a West Indies native hardy to 30 degrees F. Standing 1 to 3 feet high and up to 2 feet wide, it forms upright mounds of striking deep purple or burgundy foliage similar to coleus leaves. Joseph's coat also has small white flowers in fall and winter, but as a landscape plant it's valued for its foliage. Grown as an annual where winters are severe, it makes an attractive container, border or edging plant, according to the Missouri Botanical Garden. Plant it in full sun--for best leaf color--to partial shade. It likes consistently moist, rich well-drained soil. Maintain its bushy habit by periodically pinching back the leaf tips.
Butterfly Bush Blue Chip "Lo and Behold"
Butterfly bush (Buddleja davidii) is a deciduous summer-blooming plant hardy to minus 20 degrees F. The Blue Chip "Lo and Behold" butterfly bush cultivar stands only 1 to 2 feet tall and wide. Between June and September--and possibly until frost--"Lo and Behold" has a continuing display of deep blue, fragrant flowers. Appearing on spikes above the plant's narrow, elliptical greenish-gray leaves, the blooms will have butterflies flocking to your garden. Use "Lo and Behold," suggests the Missouri Botanical Garden, as a container plant, ground cover or miniature border plant. Give it full sun and averagely moist, well-drained soil. It suffers in wet locations. Cutting plants to the ground in late winter will reinvigorate them and increase their bloom for the following year.