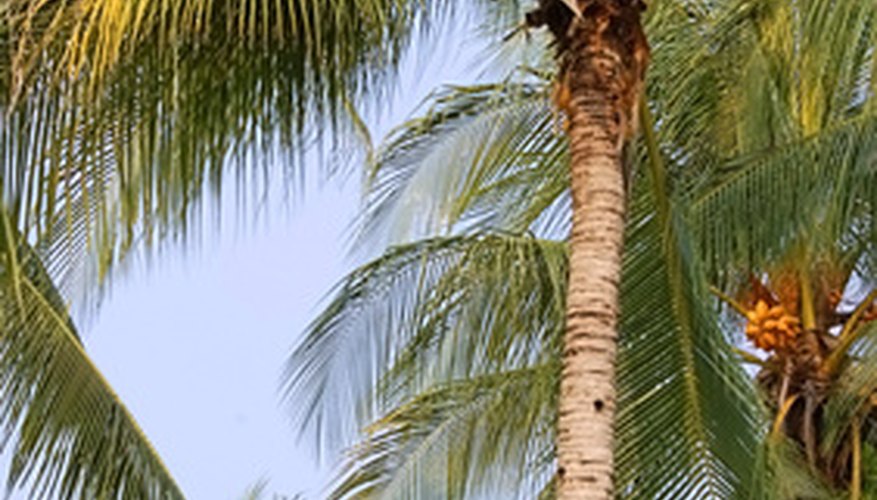 Palm trees are majestic trees commonly used in landscaping and home gardens. Frequently associated with vacation and the tropics, palm trees are primarily warm weather trees that grow in tropical, subtropical and warm temperate zones throughout the world. Palm trees that grow in the tropics often have a classic palm tree appearance, appealing to those who want an iconic tree.
Dominican Palm
Similar in appearance to the cabbage palmetto palm, Dominican palm (Sabal domingensis) is a tall growing palm that can reach heights of 60 feet or higher. The tree boasts a huge crown of dense palm fronds, as well as clusters of white blooms. A native of the Caribbean, Dominican palm is a tropical palm that is cultivated for its imposing appearance. Dominican palm should be cultivated in USDA zones 9 to 10 for best results. The plant prefers light, sandy soils and full, bright sunlight. The drought-tolerant plant needs little water, though it will grow faster with a twice-yearly application of fertilizer.
Canary Island Date Palm
Often used as an interior plant or as an urban landscaping tree, Canary Island date palm (Phoenix canariensis) is a striking palm that reaches an average height of about 35 feet. The tree boasts a stout trunk and thick, leafy palm fronds that turn from green to yellow green. Canary Island date palm should be planted in full sun in USDA zones 9A to 11A. The tree is an early bloomer, producing clusters of white flowers in early to midwinter and on throughout spring. The tree is not as drought tolerant as some palm species and should be watered frequently during the hot summer months. Plant the Canary Island date palm in a sandy, well-drained soil.
Coconut Palm
Boasting gray trunks and huge crowns of yellow-green palm fronds, the coconut palm (Cocos nucifera) is a highly recognizable palm that is planted in tropical regions throughout the world, often finding itself along the shores of resorts. The coconut palm is cherished for the savory meat of its edible fruits, which is often shredded, dried and used in baking. The sweet milk of the fruit is also used in cooking and in mixed alcoholic beverages. Coconut palms are sensitive to cold and will only grow in USDA zones 10 and 11 in full sunlight. Sandy soil is ideal, and though the plants are drought tolerant, they will gratefully soak up a little water. Coconut palms are well suited to salty soils and thrive in coastal gardens.