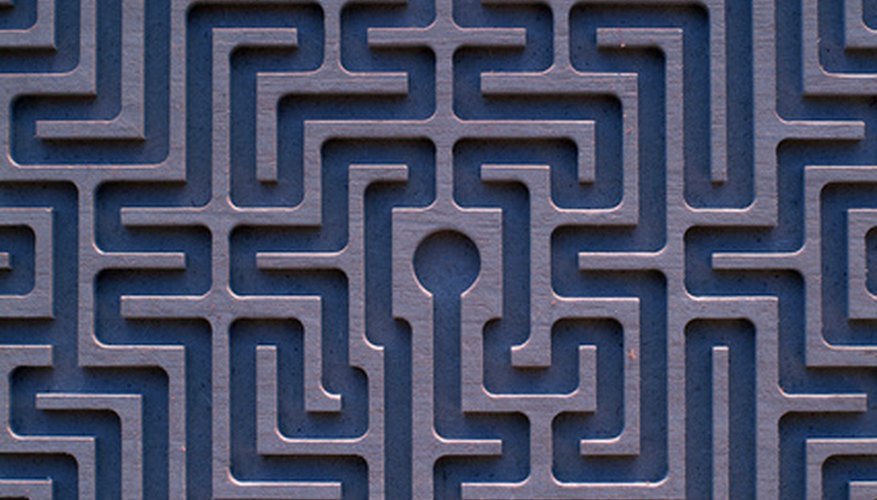 English gardens, Zen gardens and herb gardens are all well-defined styles, but a peace garden is open to interpretation. Peace gardens are defined not by their style so much as by their purpose: to create and maintain peace and community. A peace garden is a place for quiet meditation, potlucks, music-making and other activities that bring you closer to your community and yourself.
Peace Totems
A peace garden should have symbols of peace and community. It could have a sign displaying peace in many languages, a statue of a dove or a symbol of mother earth, an altar where you and your guests can put small objects of personal significance or anything else that symbolizes living together as a peaceful family of humanity. For an ongoing collaborative work, create a peace wall. Erect a wall in the middle of the garden and provide paint to your guests when they come over. Instruct each to write a quote or paint a picture that symbolizes peace for him personally.
Labyrinth
The labyrinth is best known from mythology as the home of the evil minotaur, but labyrinths can serve as powerful meditation tools.Create a labyrinth as a place for solitary contemplation. Draw a labyrinth design on the ground in chalk (see the Labyrinth Society link in Resources). Surround the chalk line with rocks, tiles, shrubs or some other barrier to create a path. Invite your friends and neighbors to clear their mind and walk through the labyrinth to find the solution to a problem, release anger and tension or simply unwind after a stressful day.
Peace Garden Arbor
A peace garden need not be dominated by plants, but it should inspire awe and respect for the natural world. A peace garden arbor will provide a shady gathering spot surrounded by greenery. Build a horseshoe-shaped bench out of cob, rough-hewn wood or another natural material with an organic feel. Surround it with an arbor overgrown with native vines. Plant ferns, bushes and other greenery around the arbor and shade trees above it to create a sense of being enclosed by nature. Connect it to other parts of the garden with a single path, leaving just enough space to get in and out of the arbor. Even in a hectic urban environment, this arbor will create a feeling of escaping into the natural world.