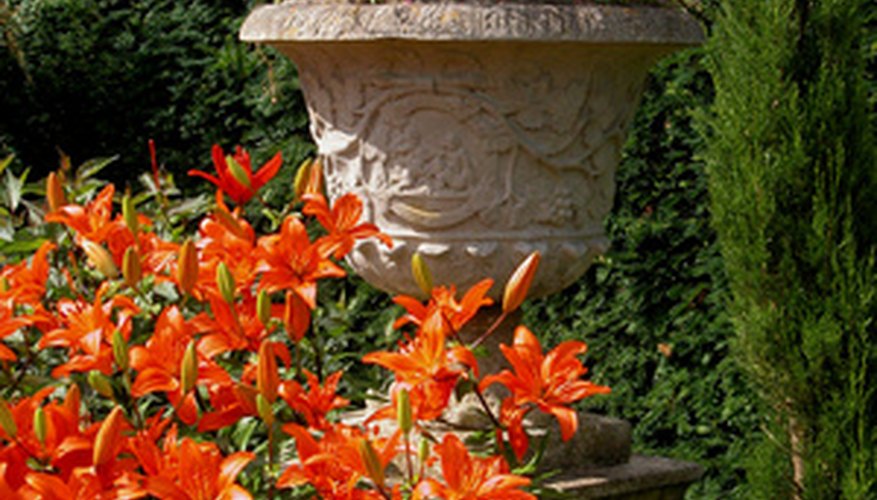 Planting in containers is convenient because they are mobile, and you have the ability to change its environmental conditions when needed. Bulbs and annuals do well in containers during the summer seasons since many can adapt to a variety of soil conditions. Many types of containers can be used for summer planting, as long as they are able to hold the root system and drain the water.
Caladiums
Caladiums are tropical plants that are available in most green houses and flower shops during the spring and summer. The two types of caladiums are fancy and lanced-leaved. They can be grown in a large pot during the warm summer months to give a home or porch area a tropical atmosphere. The caladium comes in a variety of colors, such as white, pastel or dark colors. In order for the plant to grow, it requires soil temperatures of at least 70 degrees Fahrenheit. If the soil is too cool, it could cause root rot and poor growth. Keep the soil around the plant moist, so that it does not wilt. Do not expose a caladium to too much sun or the leaves will lose their colors. One to two hours of sun exposure early in the morning is efficient enough for a caladium.
Zinnia
Zinnias are simple to grow for many gardeners. The plants adapt easily to a variety of soil conditions and are grown in containers, window boxes and hanging baskets. The colorful flowers that bloom in the zinnia also make decorative cut flowers for the home or office. The flowers are available in many different forms, such as semi-double, double, single, cactus-shaped and dahlia-shaped. A zinnia is available in every color except blue. Zinnias must have full sun for at least six hours and be planted in well-drained soil. Water the plant regularly, and fertilize it twice during its growing season.
Dahlberg Daises
The Dahlberg daisy is an annual that is often planted for edging or in containers. They are relatively small and only grow up to about 6 to 8 inches in height. The Dahlberg has fine-textured foliage and has a yellow daisy-like appearance. It is drought-tolerant and requires little watering once the root system has been established. The Dahlberg also requires well-drained soil. In a hot and dry environment, the plant will still continue to flower and flourish.