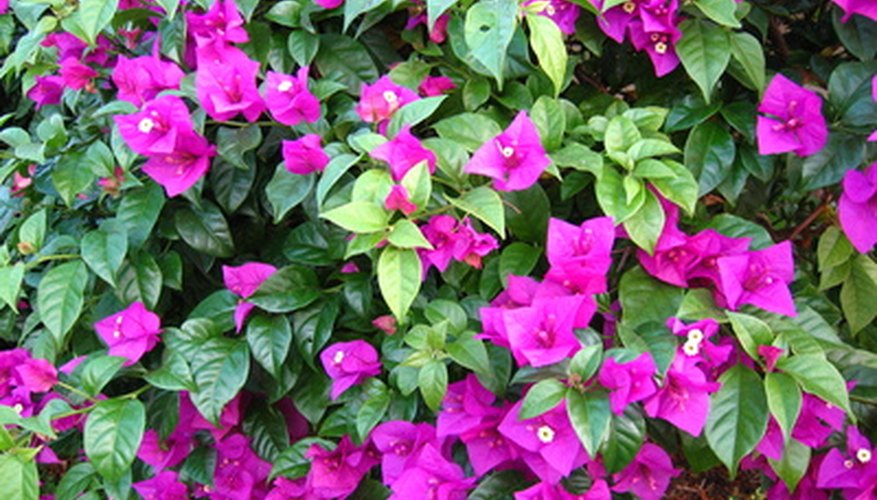 Bougainvillea is a tropical, frost-sensitive plant. It has arrow-shaped green leaves and grows to 20 feet tall. The branches have large thorns. It does not climb because it doesn't have any way to attach itself to a support or wall, but it can be tied to a support or trellis. The plant is attractive during most of the year but is stunning when it blooms. The ends of the branches are covered in brightly colored bracts surrounding each tiny white flower. The bracts come in white, red, pink, orange and fuchsia.
Shade
Attaching the branches over a pergola will soon result in the structure being completely covered in bougainvillea. In warm winter areas the plant is evergreen. In cold winter areas it will have to be re-planted in the spring. Weaving the branches in and out of the pergola is an alternative, but be careful of the thorns.
Fencing
A hedge of bougainvillea provides a sturdy fence that is rather impenetrable because of the plants' thorns. Shape the plants as they grow to the height and width of the fence you desire. Jump-start the fence by installing split rail fencing and growing the bougainvillea up, around and through it.
Privacy
Since bougainvillea grows tall and thick and takes well to pruning, it blocks out unwanted views and provides privacy. Use the plant to hide trash cans, utility boxes and air conditioners. It is relatively clean when it isn't blooming. As it's blooming the bracts break off and make a bit of a mess. That happens a few times a year but not on a constant basis.
Color
Anywhere you want some vibrant color in partial to full sun is a good place for a bougainvillea. Use it to accent an entry way by growing it over an arch. It separates outdoor rooms by growing up a trellis. It hides a fence or brightens up a garage wall. Fasten it to a wrought iron fence. If the plant is pruned so it's not overwhelming, grow it in containers either by itself or with other plants.
Potpourri
Neither the bracts nor the flowers have any scent, but the bracts hold their color and their shape when they're dry. They make a colorful addition to a bowl of potpourri. Use the bracts in homemade gift potpourri to brighten up the package. A good combination, which is southwest style, is to combine dried rosemary sprigs, dried orange slices and bougainvillea bracts with orange and rosemary essential oils.