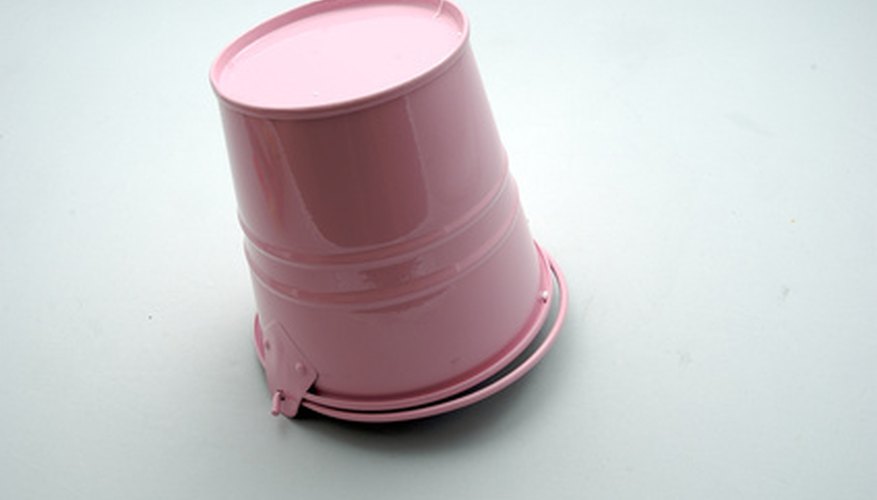 Composting does not require large space or large bins to be used as a recycling method. You can make a smaller compost bucket that you store in the kitchen, on your porch or outside the back door. Apartment dwellers can use the compost for potted plants, roof gardens or garden plots.
Wash the bucket out with warm, soapy water. This will ensure no bacteria or other residue is left behind to mix in with the compost material. Turn the bucket over after washing and allow it to dry out completely.
Set the bucket upside down on the table. Drill holes around the bottom of the bucket with a 1/4-inch drill bit. Place the outlaying holes about 1 inch from the edge of the base. These are your drainage holes.
Turn the bucket upright. Place the biodegradable bag inside the bucket to hold the compost material. This keeps the compost bucket cleaner.
Put the lid on the bucket. Make sure it fits tightly. Drill holes into the lid with the 1/2-inch drill bit. Place the outlaying holes about 1 inch from the edge of the lid. The holes provide for airflow.
Paint the exterior of the bucket black. This helps heat up the compost material to keep the temperature within a range of 140 to 160 degrees F.
Put dry leaves, shredded newspaper and sawdust in the bottom of the bag. Make a 4-inch layer of dry material. This ensures enough oxygen flows through the compost and decreases the chance of liquid building up.
Put the compost bucket onto the oven tray. Put the oven tray and bucket in a location within easy reach of the sink or refrigerator.
Add vegetable scraps, fruit cores, coffee grounds, rice and garden or flower waste to the compost bucket each day.
Mix the compost daily by picking up the bucket and shaking it vigorously.
Empty the compost bucket when it is full or you can no longer pick it up with one hand.