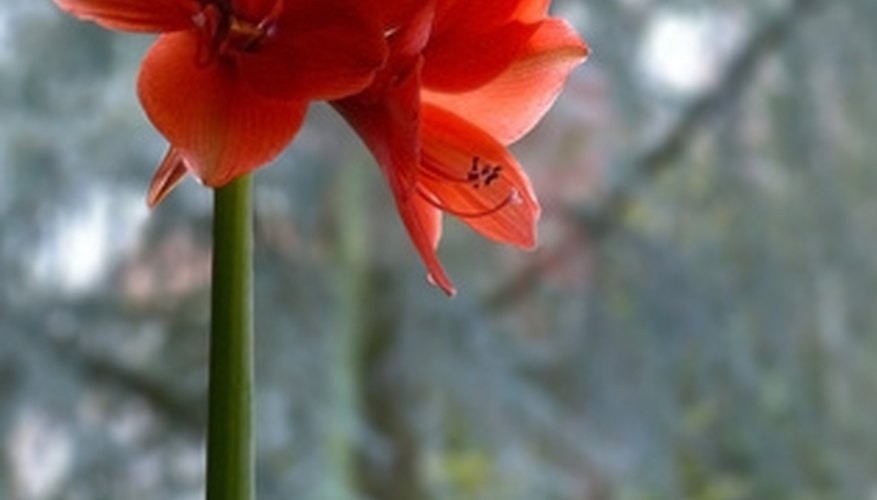 Amaryllis is one of the more favored flowers that gardeners grow today. The 1- to 2-foot stalk and brightly colored trumpet shaped flowers can brighten up any room, patio or outdoor flower bed. These flowers grow from bulbs and require little care. Amaryllis bulbs can be grown just about any time of the year and make great holiday gifts. Repot the bulbs when bulbs need to be separated or new soil is needed, about every three or four years.
Mix 2 parts potting soil to 1 part compost and 1 part sand.
Remove the bulb from its current container carefully so as to disturb the root system as little as possible. Do this while the plant is dormant and you are ready to begin its bloom cycle again.
Divide the offset bulbs by separating by hand or cutting them off with a very sharp knife. Each bulb should have its own pot, leaving no more than 1 inch between the bulb and the side of the pot.
Place the bulb on top of the soil you've prepared in the pot. Adjust for height, so the soil will cover one-third to one-half of the bulb. Fill in around the bulb with more soil and water to settle the soil around the bulb. You may need to add a little more soil after it has settled.
Water thoroughly and place the potted bulb in a warm sunny window. Water again when the top of the soil starts to dry out.
Apply a houseplant fertilizer, high in phosphorus after the bulb has started to sprout. Follow the manufacturer's directions on the amount to apply.