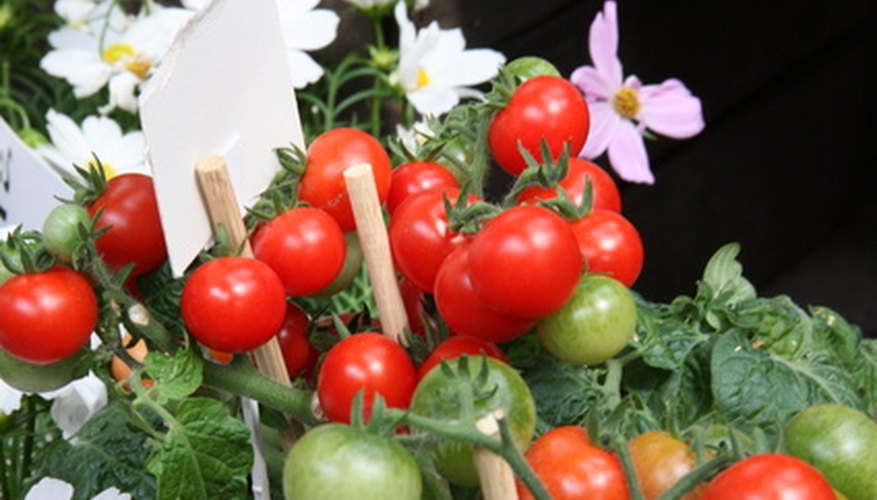 While planting tomatoes and growing them in the garden is not difficult, there are easier ways to grow tomatoes at home. Make sure that the tomatoes have between six and eight hours of sunlight, no matter where or how you plant them. Tomatoes require regular feeding, rich soil and a consistent watering schedule. Keep an eye out for birds and bugs.
Hanging Basket
Tomatoes are naturally vining plants. Growing the plants in a basket keeps the fruits off the ground and away from slugs and other critters. It's easy to protect the ripening fruits from birds by netting the basket and plant. Baskets dry out more quickly than pots on the ground. Check the soil every day to see if the tomato needs watering. Give the basket a quarter turn every week so all sides of the tomato gets equal sunshine.
Bags of Soil
You don't even need a container for this easy way to grow tomatoes. Poke holes in the bottom one-third of a bag of potting soil that has slow release fertilizer already incorporated. Slit open the top and push down on the bag to squash it a bit and level the bottom. You might have to remove some of the soil so there's room. If temperatures are on the cool side, wrap the bag of soil in a black plastic garbage bag. The bag will retain the heat from the sun and warm the soil inside.
Old Tires
Place a 1-inch-thick layer of newspapers under a stack of two tires that have the center wheel hub removed and fill with potting soil. The newspapers prevent grass and weeds growing up through the planter and will disintegrate, adding organic material to the soil. Plant three seeds in the center of the tires, about 6 inches apart. As the seedlings grow add another tire or two to the stack and fill with potting soil. Don't smother the seedlings by completely covering them with soil. The stem of the seedlings will throw out additional roots, making for a stronger, more productive plant.
In Flower Beds
Tomatoes have much the same requirements as sun-loving flowers. Pop in a few tomato plants in your flower beds. Stake the plants with cages or stakes so they don't flop over on the flowers. The bright red fruits add color to the garden. Plant varieties of yellow, gold, pink, white or green tomatoes if you don't want red accents among your flowers.