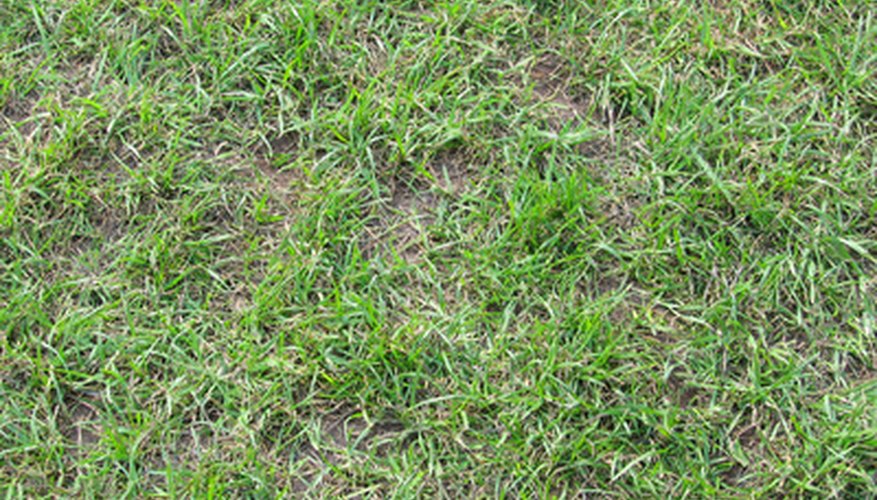 Zoysia is a warm season grass. Zoysia can also be a pest in cool weather grass lawns. The thick turf of zoysia can overrun some lawns through the grass's underground series of rhizomes. According to the University of Rhode Island, applying a chemical herbicide to the zoysia grass will kill the pest grass, but overspray may present hazards to other plants. There are also long-term non-herbicide methods, but it may take up to two years to fully eliminate the grass from an established lawn.
Fertilize the zoysia infested lawn in September and October, using a lawn fertilizer spreader for good coverage. The extra general lawn fertilizer will boost the cool weather grasses as the zoysia grass goes into dormancy for the fall and winter.
Raise the mowing deck on the lawn mower to 3 inches or slightly higher. This will allow the cool weather grasses to gain in height above the zoysia grass blades. In essence, over a period of two years, the cool weather grass will choke out the warm weather zoysia.
Apply the herbicide glyphosate to the lawn for a faster elimination. This type of herbicide is non-selective, and will kill all grass in the lawn. It may take several applications to thoroughly kill the zoysia grass and the rhizome root system.
Seed the lawn as soon as possible to prevent any soil erosion due to the killing of the lawn grasses. Apply the new grass seed in the amounts prescribed by your agricultural extension service or nursery plant retailer. Various grass species will require different application and fertilization rates.