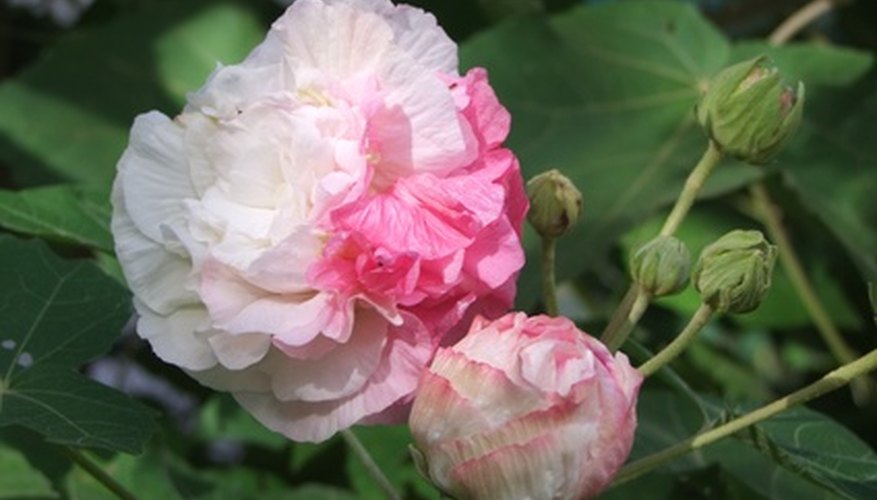 Designing a flower garden is like putting a giant jig-saw puzzle together. Flowers in different sizes and colors come together to turn an empty space with sun and shade, dry and moist soils into a pleasing landscape. Create a rock garden, use ground covers under trees and plant trees to create dimension and shade all in your favorite colors.
Princess-Tree
Princess-Tree (Paulownia tomentosa) is also known as the Empress-Tree and Paulownia. The tree is native to China and grows from 30 to 50 feet tall and about the same in width. Lavender flowers bloom in the spring before the heart-shaped leaves from 8 to12 inches long and 4 to 8 inches wide make their appearance. Woody seed capsules follow the flowers in the fall, each one with up to 2,000 seeds. Plant Princess-Tree where it's protected from the wind; in deep, moist, well-draining soil and full sun; partial shade or full shade. The tree is hardy in USDA zones 5B to 9.
Rose-of-Sharon
Rose-of-Sharon (Hibiscus syriacus) is also known as Shrub Althea. The plant grows as a shrub or small tree up to 8 feet tall and 4 feet wide. The plant is hardy in USDA zones 5 to 8 and likes full sun or partial shade. Give Rose-of-Sharon organically rich, moist and well-draining soil. The plant produces medium-green, egg-shaped leaves, 3 inches long, that turn chartreuse in the fall. White, red, purple, mauve, violet or blue, or bi-colored flowers, measure 4 inches wide and bloom from July through September, opening only in the day and closing up in the evening.
Sweet William
Sweet William (Dianthus barbatus) is hardy in USDA zones 3 to 9 and grows from 1 to 2 feet tall and up to 1 foot wide. Small red, pink, white and bi-color flowers grow in flat-topped clusters at the tip of the stems and bloom from May to the first frost. Medium-green, lance-shaped leaves measure 4 inches long. Plant Sweet William in full sun or partial shade and in a soil that is moist and well draining.
Bird's Foot Violet
Bird's foot violet (Viola pedata) grows up to 6 inches tall and 6 inches wide. Purple-lilac or light blue flowers bloom from March to May, growing just above the leaves. Plant bird's food violet in full sun and a moist soil. Bird's foot violet is hardy in USDA Zones 4 to 8 and likes full sun and a soil that is sandy or gravelly, moist to dry and well-drained. The plant gets its name from the shape of the leaves, each resembling a bird's foot.