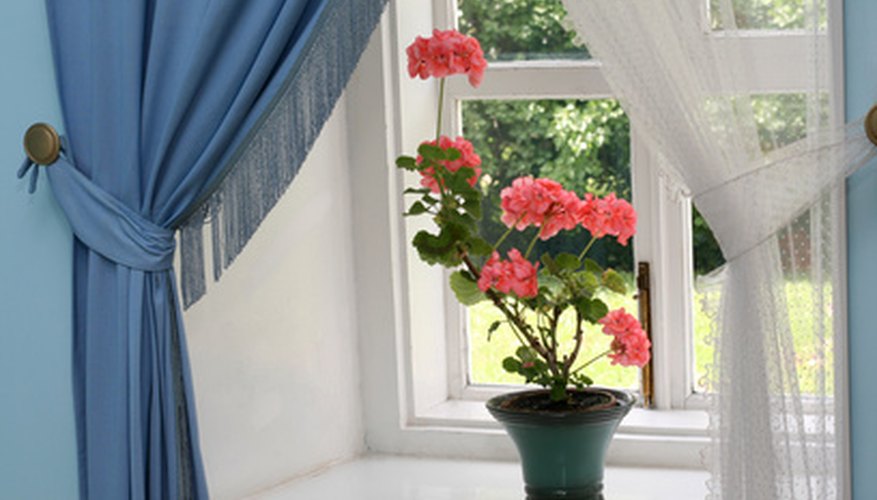 Geranium plants are a mainstay in any landscape or a container garden. Unlike years ago when there were limited colors and varieties of geraniums, today there is a wide selection for you to choose from. Specialty geraniums are not inexpensive, so if you live in an area that experiences hard frost and freezes during the winter months, you will want to take steps to save those beautiful geraniums over the winter for next summer.
In Containers
Trim your geranium to about 6 inches, using a sharp knife or clippers before the first frost.
Use a shovel to dig up your geraniums. Be sure to dig carefully so you do not damage too many of the roots.
Carefully remove excess garden soil from around the roots. Some garden soil can remain around the main root ball of your geranium.
Repot your geranium into a container with clean potting soil. Using potting soil, instead of garden soil, will reduce the chance of fungus or disease. Potting soil is also lighter and better-draining.
Place your repotted geranium in a location that will receive strong, bright light for at least six hours a day. The location should also be cool, ideally around 60 degrees Fahrenheit. Geraniums do best if they can experience a period of dormancy, which growing in the winter months in a cooler environment enables the geranium to do.
Water your geranium thoroughly when you repot it. Then, water your geranium only when the soil feels dry when you insert your finger into the soil 1 inch. Letting your geranium live in a drier soil during the winter will delay it from growing new, weak shoots. You want your geranium to live over the winter, but it should not flourish and grow, because the new growth will be too weak and spindly.
From Cuttings
Use a sharp knife to cut sections of your geranium stem tips 3 to 4 inches in length.
Pinch off the lower leaves of the stem tip sections.
Dip the cut ends of your geranium cuttings into rooting hormones before you insert the cut end into a porous, moist and well-draining rooting medium, like perlite, coarse sand or vermiculite. The rooting hormone will aid and encourage faster root development on your cuttings.
Secure a clear plastic bag over your planted geranium cuttings. This will create a greenhouse effect, giving the cuttings a moist, humid environment. Check the root medium for moistness periodically, watering when needed.
Transplant your geranium cuttings into pots 3 to 4 inches in diameter and filled with regular potting soil, when your cuttings have grown roots that are about 1 inch. (This will take about 6 to 8 weeks.)
Place your newly repotted geranium cuttings in a bright, sunny location and water as needed.
Dormant Storage
Use a shovel to dig up your geranium, before the first frost, from your garden or container.
Carefully shake off all the garden soil from the roots.
Put the geranium in an open paper bag or burlap sack to allow air circulation during the dormant state.
Place the bag or sack in a dark, cool location for the winter. Basements or windowless garages are good locations.
Remove your geranium from the bag or sack and soak the roots in water for one to two hours two or three times during the winter. You may notice some leaves on your geranium have dropped off, but the stems should be firm.
Repot your dormant geranium plant in March or April in a container filled with general potting soil. Water your repotted geranium thoroughly, cut off any dead stem tips and place in a sunny location. It will take several weeks for your geranium to begin to grow.