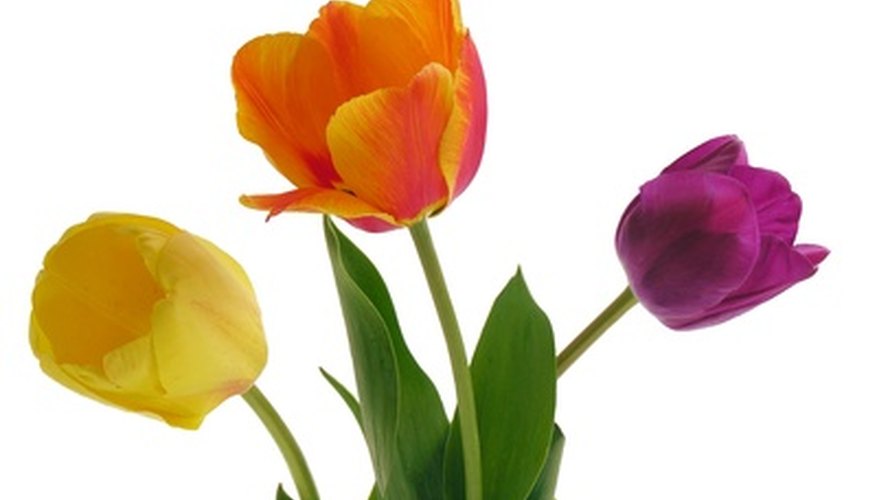 Bulbs are flowers in a tidy package just waiting to bloom. Most spring bulbs need a period of chilling to force the flower to bloom. In nature the chilling is provided by nature during the cold winter months. Put the bulbs in the refrigerator for at least 12 weeks to mimic nature. Place bulbs on a 2-inch layer of pebbles. Add enough pebbles to cover two-thirds of the bulb. Add water to come to the bottom of the bulb.
Spring Bulbs That Require Chilling
Crocus bloom in early spring. The leaves are 4 to 5 inches long, and they are narrow. The flowers are cup-shaped and 1-inch long. Crocus colors include yellow, white and purple. Some varieties have contrasting colors on the petals.
Hyacinths bloom in late spring. The flower stalk starts growing at the same time the leaves peep out. Eventually the flower stalk will reach 12 inches, with the top 6 inches covered in tube-shaped flowers that smell heavenly. Leaves grow to 12 inches as well. Colors include white, pink, yellow, almost red and purple.
Grape Hyacinth are early bloomers. They grow to 6 inches high and resemble hyacinths in how the blossoms are placed on the stem. The flowers are much smaller and only come in purple.
Tulips prefer cold climates and won't come back year after year where summers are too warm. The variety is astounding. There are tulips for early, mid and late spring. Blossom shapes include cup-shaped, fringed, lily and double. The size of the flower is from 2 inches to 4 inches.
Spring Bulbs That Do Not Require Chilling
Narcissus, also called paperwhites, are one of the easiest bulbs to force. They look like tiny daffodils, but instead of only one flower to a stem, they bloom in groups of up to seven on a single stem. The flowers are very scented. One pot with six or so bulbs will perfume an entire room. Narcissus bloom in yellow as well as white. The leaves have a tendency to flop over before the flowers bloom.
Daffodils are a favorite flower of many. It is recommended that the bulbs be chilled. However, they will bloom even if they are not chilled. Colors include sunny yellow, light yellow, almost white, orange and a light pink. The flowers have a mild fragrance.
Summer Bulbs
Amaryllis is usually available in stores around Christmas because it's popular as a gift item and as a decoration. It's very easy to force and results in huge flowers, up to 6 inches across on a stem that's 15 inches high. The bulb flowers first with one or two leaves. When the bulb is finished flowering, it grows more leaves. Plant the bulb in your garden if you live in a warm winter area, and it will rebloom in the summer.