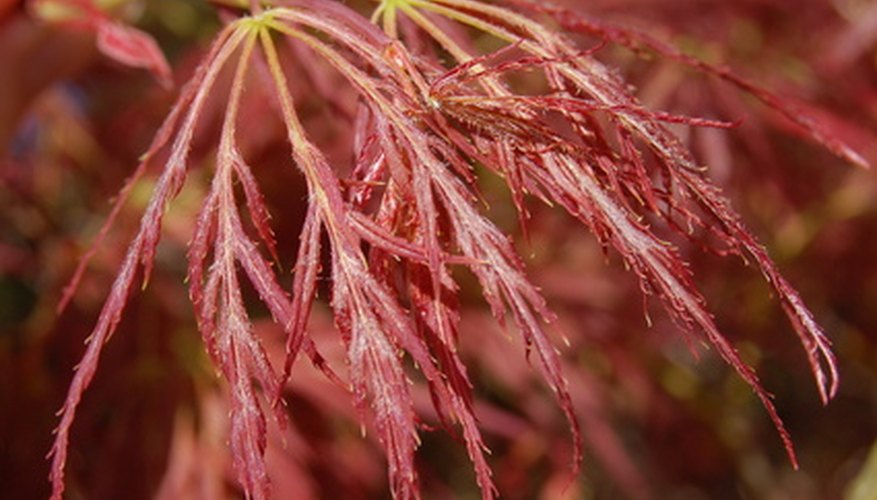 Fill large planters with a variety of flowers, shrubs and ornamentals to create full and vibrant designs. Large planters are an ideal way to bring height to a garden pathway or flank a front door. They come in a wide range of colors, shapes and sizes to complement the flowers within and surrounding garden plants. Have fun choosing favorite colors and heights to bring an architectural interest to the landscape.
Feather Reed Grass
Feather reed grass (Calamagrostis x acutiflora) is an ornamental grass that is suitable in U.S. Department of Agriculture hardiness zones 4 to 9. It has an upright, clumping shape with slender and wiry stems that hold the feathered plumes. The narrow clump grows up to 4 feet tall and makes an ideal accent plant for a large planter. Feather reed grass has buff-colored plumes that emerge in early summer and last through the season. It remains attractive through the winter, an added bonus to the large planter. Feather reed grass has a rapid growth rate, bringing height to the container in a short period of time. It prefers full sun to light shade and well-drained, nutrient-rich soils. Feather reed grass tolerates poor soils that are heavy with clay, as well as dry to wet planting sites.
Japanese Maple
Japanese maples (Acer palmatum var. dissectum) are attractive in large containers and create a specimen tree within the garden. They reach heights up to 10 feet tall and spreads of 6 to 10 feet wide. The arching branches on Japanese maples hold bright green dissected leaves that turn a golden yellow in fall. The summer-blooming flowers on Japanese maples are red to purple, adding a layer of color to the planter. Japanese maple trees have a moderate growth rate and are ideal as bonsai when they're top-grafted. They require full sun to part shade and well-drained, moist soil that is nutrient-rich. Japanese maples grow in USDA zones 6 to 8.
Gold Cone Juniper
Gold cone juniper (Juniperus communis Gold Cone) has a dense, upright columnar form that is narrow. As an evergreen, gold cone juniper keeps the large planter with color in winter and throughout the year. Gold cone grows up to 5 feet tall and has a spread of 1 to 2 feet. The striking foliage on gold cones starts as bright gold and slowly turns to a blue green in winter. Gold cone junipers are suitable in USDA zones 5 to 7. They require full sun and well-drained soils and have a moderate drought tolerance.