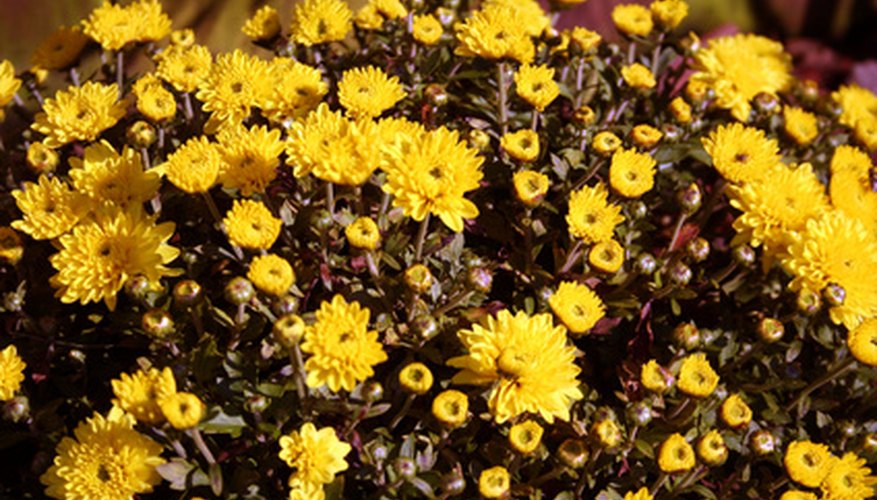 Finding garden plants other than annuals that bloom in late summer can be challenging. Finding plants that flower to fill the gap from mid-July to just after September's start is rewarding, since you don't simply have to rely on growing chrysanthemums and wait for them to bloom in early autumn. Many of the late-summer blooming plants appreciate heat and sunshine to mature before providing you with an abundant flowering display.
Hibiscus
Rejuvenating from their roots every spring, hardy/perennial hibiscus or rose mallow (Hibiscus moschuetos) plants appreciate the heat of summer to produce their flowers. While they may start flowering in midsummer, they will continue their display up until frost, so they can help fill the late-summer season flowering void. Grow them anywhere from U.S. Department of Agriculture hardiness zones 5 though 10. Rose of Sharon (Hibiscus syriacus) grows well in zones 5 through 8, while Confederate rose (Hibiscus mutabilis) is good in zones 7 thorugh 10.
Summersweet
Attractive in mixed shrub borders or on the edge of woodlands or wetlands, summersweet (Clethra alnifolia) releases a sweet floral fragrance from its white to pink flowers in midsummer to mid-September. It tolerates both full sun and heavy shade garden light exposures and attracts butterflies. Grow summersweet in USDA zones 5 through 9.
Texas Firecracker
If you enjoy hummingbirds, plant some Texas firecracker (Anisacanthus wrightii) plants so their fiery orange-red blooms attract hummers as well as add color to a late summer landscape. In frost-free locales, Texas firecracker grows 6 feet tall but often dies back each winter; use it in USDA zones 7 and warmer.
Goldenrod
Goldenrod (Solidago spp.) numbers about 100 different species, so the choice in plant size, winter hardiness and precise flowering time is up to you. Generally speaking, depending on species, they produce their tufted flower clusters from midsummer until mid-autumn.
Sunflower
Perennial species of sunflower bloom from midsummer to the first fall frost. Annual sunflowers aren't your only garden choice. Hardy in USDA zones 4 through 8 is Heliopsis helianthoides. Other perennial sunflower species include Helianthus decapetalus, Helianthus doronicoides and the hybrid Helianthus x multiflorus.
Sneezeweed
Looking like sunny daisies or perennial sunflowers, sneezeweed (Helenium autumnale) blooms from mid to late summer until autumn. Hybrid varieties of note include "Crimson Beauty," "Waldtraut" and "Moreheim Beauty."
Saint John's Wort
Depending on the species, the shrubs called Saint John's wort (Hypericum spp.) bloom in summer, with some species starting in late summer and continuing into fall. In USDA zone 3 through 8, plant shrubby Saint John's wort (Hypericum prolificum), while in zones 6 and warmer, consider Hypericum densiflorum, Hypercium lloydii and Hypericum reductum.
Blue-Mist Shrub
Sometimes called blue spirea, blue-mist shrubs (Caryptoperis x clandonensis) thrive on low maintenance in USDA zones 5 though 9. In August and September, blue, lavender or blue-violet flowers grace the stem tips and attract bees and butterflies.
Late Summer Bulbs
Two summer-flowering bulbs worth adding to your garden for visual excitement in August and September are the autumn crocus (Colchicum spp.) and red spider lily (Lycoris radiata). In hot summer climate regions they may not bloom until early autumn. Overall, Colchicum species are good choices for USDA zones 4 though 9 and spider lily are best in zones 7 through 10.
Surprise lily (Lycoris squamigera) blooms anytime in mid to late summer with naked stems topped with pink flowers in zones 5 through 10. If you planted dahlia "bulbs," better known as tubers, earlier during late spring, they should be producing abundant flowers in late summer and will continue to dazzle until the first frost.
Hardy Begonia
The hardy begonia (Begonia grandis) is perfect for a partially shaded area of the garden, such as under a tree or an arbor. Grow it in USDA zones 6 through 9 where it will flower in late summer to early fall.