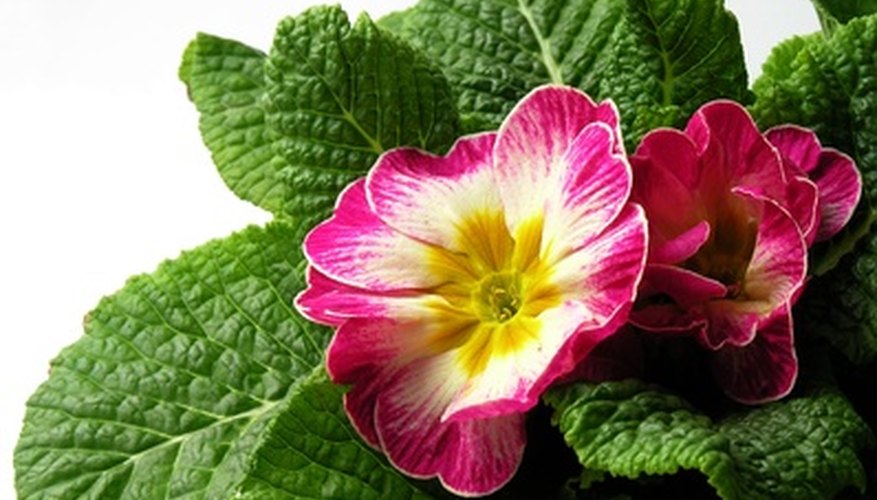 As the largest continent in the world, it should come as no surprise that Asia boasts tremendous geographical diversity, from the Himalaya mountains to the lush tropical jungles of Southeast Asia. There are many plant species native to Asia, and many beautiful Asian flowers may be grown in home gardens throughout the world.
Common Primrose
A native of western Asia and southern Europe, common primrose (Primula vulgaris) is a familiar sight in many gardens. The low-growing plant is often used in flower beds and borders and as an indoor or outdoor container plant. Primrose plants boast oval green leaves and clusters of flowers, available in colors ranging from white to purple, pink and yellow. Common primrose grows best in partial or filtered sunlight in U.S. Department of Agriculture zones 4 to 8. Indoor plants should be kept in bright, diffused light. For best results, plant common primrose in a humus-rich soil that retains water without becoming overly soggy. Water often during the summer.
Chinese Astilbe
Blooming from summer until fall, Chinese astilbe (Astilbe chinensis "Pumila") is a popular summer perennial flower native to China. The plant boasts dense, rich green foliage topped with fuzzy columns of flowers that are a deep rose pink. Chinese astilbe grows best in USDA zones 5A to 9A in partial shade or full sunlight. The ideal soil for this plant is neutral and well drained. Chinese astilbe makes a great border plant, and the stiff stalks of the flower can be cut for fresh or dried bouquets. Water the plant as needed: more in the summer, less in cool months.
Wishbone Flower
A member of the figwort family, wishbone flower (Torenia fournieri) is an annual plant commonly used in flower beds, containers and borders. The delicate, velvety flowered plant originally hails from Southeast Asia, and can be found in Vietnam in particular. Wishbone flower boasts brilliant green foliage and flowers ranging in color from purple, blue, yellow and white, depending on cultivar. The plant is not at all tolerant of frosts and should be grown in USDA zones 6 to 9. Full sunshine is best for cooler climates, while partial shade is better in warmer areas. Wishbone flower will produce its best flowers in rich, organic soil that is enhanced every two weeks with a fertilizer high in potassium. Water the plant as needed.