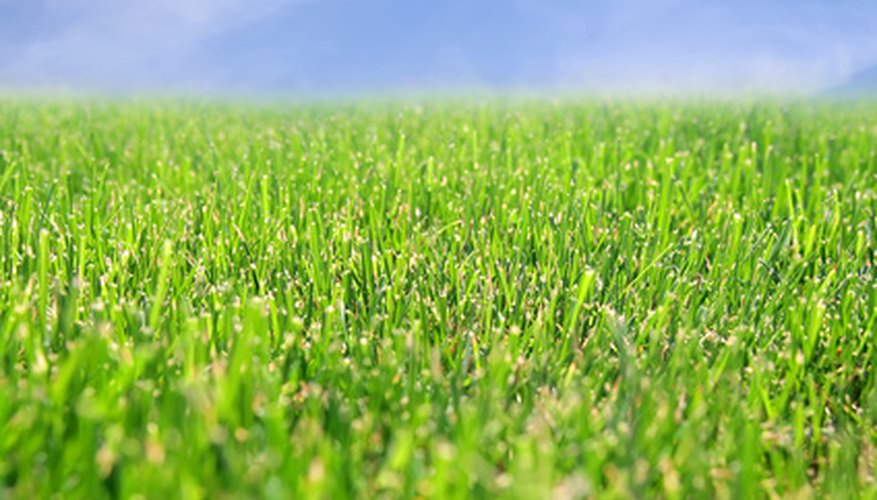 According to the book "The Lawn: A History of an American Obsession," lawns as they exist today started out as simplified versions of the English private park. Before the invention of the garden hose and lawn mower, a lawn served as a visible status symbol that showed you had the money and time to water and to cut a yard full of grass by hand. Today many homeowners take immense satisfaction in possessing a wide expanse of carefully managed, weed-free turf. Identifying lawn problems is the first step to resolving them and to maintaining a perfect lawn.
General Lawn Care Problems
Survey the lawn's appearance as a whole. Grass can become thinner thanks to summer heat, mowing too closely, shade or the presence of nematodes. You will spot weeds due to the plant's differing appearance from the surrounding grass.
Consult a garden center, master gardener program, county extension agent or lawn care service to determine the type of grass that is planted in your yard. Certain grasses are prone to problems that others may be immune to. For example, gray spot is a fungal disease that primarily affects St. Augustine or centipede grass, and rust primarily affects cool-season grasses, such as ryegrass or Bermuda grass. Brown spot primarily affects Bermuda grass.
Read the labels of fertilizer products that you have used on your lawn to determine whether you have used too much. Fertilizer burn can cause grass to uniformly turn brown.
Run your fingers through your turf to determine the thickness of your thatch layer. The thatch layer is the buildup of roots, dead grass stems and debris at the base of your grass. When thatch builds up, it can smother your lawn by robbing the soil and the roots in the soil of water and nutrients. If your layer of thatch is more than 1 inch thick, this is a major contributor to your lawn problems.
Discolored Grass
Sniff at a patch of discolored grass. If you smell a musky odor, the grass may have a fungal disease, such as brown spot. If there is no smell, the disease may be root rot.
Measure the size of the spot. If the spots are only 2 to 3 inches in diameter, the spots are probably dollar spot. Dollar spot is caused by the fungus Sclerotinia homeocarpa and primarily affects Bermuda grass, but it may also be found in bentgrass, zoysia and St. Augustine as well.
Look for mushrooms in the discolored zones. Their presence is a sign of fairy ring, a fungus that usually appears when the soil contains high amounts of organic material, such as compost, peat moss or manure.
Take note of the time of year that the discoloration appears. Many grasses will turn yellow as they go dormant in winter. Such diseases as large patch occur in spring or fall.
Examine the appearance of the individual grass blades. Large patch often appears gray instead of brown or has a smoky gray ring around the edges of the discoloration. Gray leaf spot appears in summer, primarily on newly sprigged St. Augustine or centipede grass. Leaf blotch causes discolored blotches on leaves in purple colors rather than uniformly discoloring an entire grass blade. Rust appears as a patchy brownish or orange color on blades of grass. Pale-colored grass combined with a thin, patchy growth habit or stunted growth is an indicator of the presence of nematodes in your lawn.
Rub individual grass blades between your fingers. Slime molds cover grass in tiny dusty gray or dirty yellow masses that are filled with tiny balls of spore. If you rub these balls between your fingers, you will release the powderlike spores onto your fingers.
Insect Damage
Remove the bottom end from a coffee can.
Sink one end of the coffee can several inches deep into green, healthy turf. Do not look for damaging insects in discolored turf. By that point, the insects will have moved on.
Mix 1 oz. dishwashing detergent with 1 gallon water.
Pour the detergent mix into the coffee can.
Observe the insects that float to the surface of the liquid detergent. Skim the insects off the top of the liquid, and place them in a plastic sandwich bag. Take this bag to your county cooperative extension service office for proper identification.
Dig beneath the surface of your soil with a garden trowel to look for grubs or billbugs. Heavy grub infestations will remove most of the roots of your turf, causing your grass to roll back like a carpet when you tug at it.