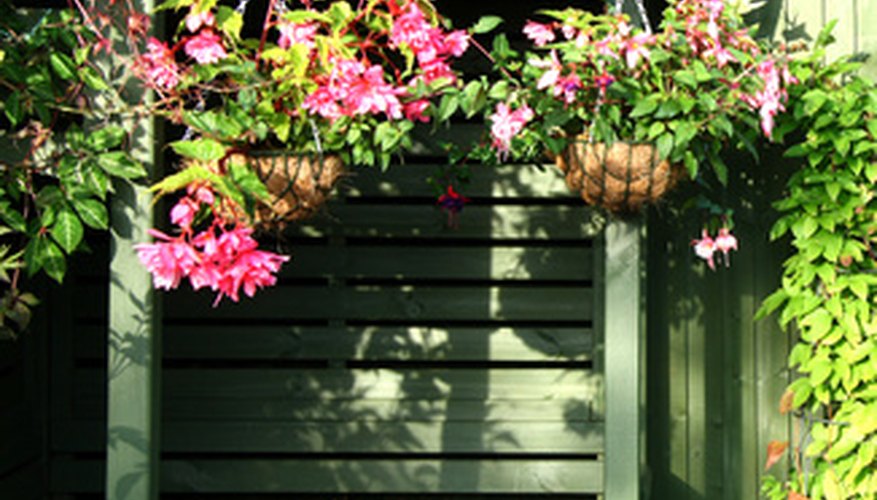 Hanging baskets are ideal for decorating the exterior of your home or creating a garden when you have little land. These containers can be suspended from any sturdy rafter or wall, brightening up your porch, patio or gazebo. When installing these baskets, it is important to ensure that the basket is well supported and will not fall. Properly hung brackets will support your hanging flower baskets for years to come.
Select a location for your hanging basket that will provide the appropriate amount of sun and shade for the types of flowers that you want to include in it. Find a sturdy rafter or stud which can support your basket.
Remove the chains from which the basket hangs, if possible, to keep this part out of the way. Most hanging baskets are suspended from a trio of three chains. Fill the basket with flowers as desired. Combine flowers with similar sun and water requirements for a healthy basket. Do not plant shade-loving plants and those that need a lot of sun in the same container.
Weigh your finished basket after watering. Select a hanging basket bracket which is designed to accommodate this weight. A bracket that is too small or flimsy will break under the weight of the flower basket.
Install the hanging basket bracket onto the wall or rafter where you want to place the basket. Most brackets will come with screws and other appropriate hardware for hanging. Use a drill to create holes for the bracket's screws and affix the bracket to the beam with appropriately sized screws.
Replace the chains on the basket, ensuring that they are securely attached to the basket. Wrap wire around the points where the basket meets the chains to provide extra support if the chain slips off easily. Hang the hook at the top of the basket chains from the hook on the bracket. Wrap wire around the hook where it meets the bracket to keep it from swinging off and falling during storms or windy days.
Things You Will Need
Hanging basket

Chain

Flowers

Soil

Water

Scale

Hanging basket bracket

Screws

Drill

Wire
Tip
Check your hanging basket brackets each season before installing new baskets to ensure that they are not loose, rusty or damaged.