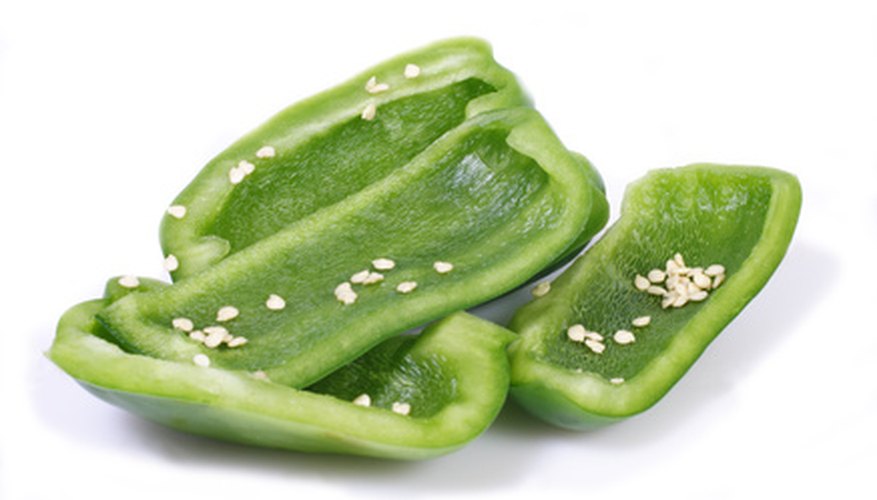 green pepper and seeds image by Jack Kunnen from Fotolia.com
Saving your own seeds can be exciting for a vegetable gardener. Luckily, pepper seeds are some of the easiest seeds to collect and store, making them ideal for experienced gardeners and novices alike. The key in seed storage is to simulate winter conditions rather than summer conditions. Warm moisture causes seeds to sprout, while cool dryness keeps them dormant. With proper storage, you should expect pepper seeds from this year's crop to be viable for the next three to five years.
Dry collected pepper seeds thoroughly on a paper plate or paper towel in a warm, dry area of your home until they no longer feel tacky or cool to the touch. This can take anywhere from a few days to a few weeks.
Place the fully dried pepper seeds into a seed packet and seal it shut. Write on the envelope the type of pepper seeds they are and the date you collected them.
Place the envelope inside a jar and close it tightly. Set the jar in a cool, dark place where temperature and humidity fluctuations won't occur, such as a closet off a bedroom, a basement or an enclosed and insulated garage. For optimum storage, set the seeds in a refrigerator where they can be kept at a constant 32 to 41 degrees.
Remove the seeds and use them as needed at the beginning of each growing season. Collect information about your seeds if desired by keeping track of how many seeds you planted and how many germinated. Each year of planting you should expect to see a slow decline in the number of seeds that germinate; at the point that less than 50 percent germinate, you should discard the remaining seeds.
Things You Will Need
Paper plate or paper towel

Seed packet, purchased or homemade

Pen

Large glass jar

Refrigerator
Tip
To absorb moisture in the jar, put 2 tbsp. new powdered milk in a tissue or cheesecloth inside the jar. Replace the powdered milk every six months.