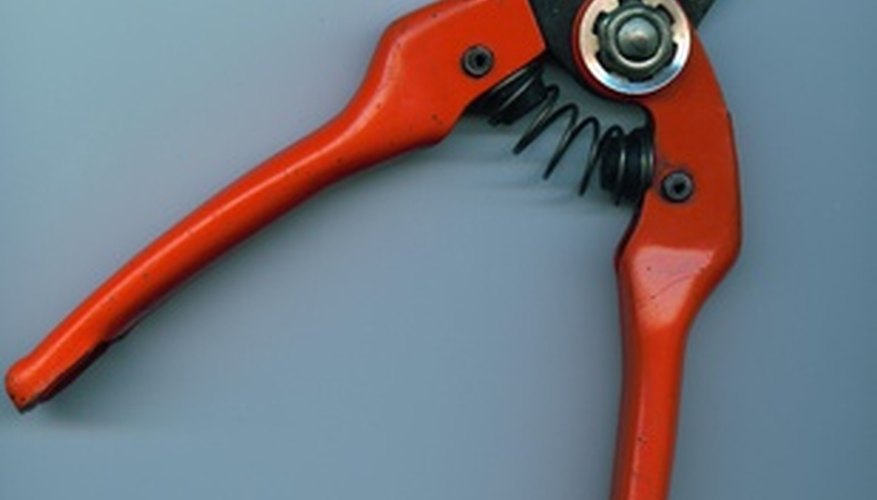 Flower gardens begin looking tired as midsummer approaches. The plants become leggy and overgrown, and wilted flowers ruin the ornamental quality of your beds. Left untended, the flowers may drastically reduce their blooming or stop flowering entirely. Once flowers produce seed, they often stop producing new flowers, according to the University of Illinois Extension. Trimming flowering plants brings the beds back to their former glory. Most perennial and annual flowers benefit from a mid-season trimming.
Pinch off the top 1/2 inch from the growing tips of bushy perennial flowers, such as sedum and asters, in early summer. Pinching encourages fuller growth and prevents the plants from becoming leggy.
Trim the spent blooms from both annual and perennial flowers to prevent seed set, using a process called deadheading. Pinch off the flower 1/2 inch down the stem behind the flower so the entire seed-producing structure is removed. Deadhead flower plants once weekly during the blooming period.
Cut out broken stems and damaged leaves. Damaged areas are prone to disease and insect problems when left on the plant.
Cut back perennials and some annuals, such as pansies, when they become overgrown and stop blooming fully at mid-season. Remove up to a third of the plant's height with a pair of shears.
Thin perennial flowers, such as phlox and delphinium, in spring before new growth begins to encourage more air circulation around the plants. Remove one in three stems, cutting them off at the base of the plant with a pair of shears.
Tips
Water plants after trimming. Plan severe trims near a scheduled fertilizer treatment to encourage quick regrowth.

Use clean shears so that you don't spread disease problems throughout the flower bed.
Warning
Always verify the exact needs of the specific plant before severe trims, otherwise you may permanently damage a plant.