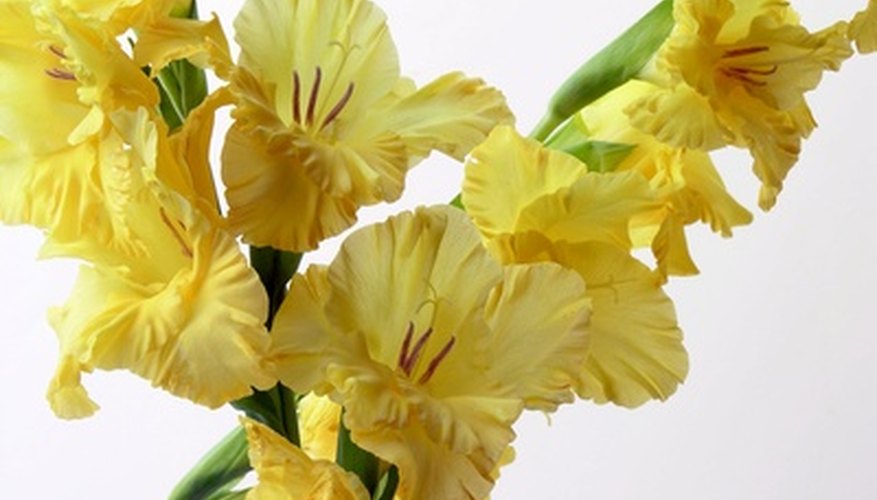 Flower bulbs are easy to plant, don't require more attention than other types of plants and provide a variety of flowers throughout spring and summer. Sometimes the bulbs aren't quite happy where they are. They need more or less sunshine, or perhaps they've simply outgrown their space. The best time to move bulbs is in the spring or fall.
Growing or Blooming Bulbs
Water the flower bulbs until the soil is wet at least to the depth of the bulb's roots. That most likely will be at least 12 inches. The plants are now well-hydrated for the move.
Dig the hole for the new home of the bulbs at least 18 inches deep. Backfill the hole with a 50-50 mixture of compost and soil you've removed from the hole.
Dig up the flower bulbs a day or two after you've watered, so the soil won't be mud. Take as much of the soil around the roots as possible. Place the bulbs, roots and dirt in a bucket and transport them to their new home in your garden.
Place the flower bulbs and soil in their new home as gently as possible. Fill around the bulbs and plants with soil.
Water until the water reaches the depth of the bulbs. Watering eliminates air pockets around the roots.
Dormant
Mark where the flower bulbs are with craft sticks. Write the name of each bulb and its color on the craft stick. For example: "late blooming pink tulips." Wait until the leaves have completely turned yellow and have died back before digging them up.
Dig up the bulbs. You can replant them immediately in their new home, which is preferable. If that's not possible store them in a cool dark place until it's time for planting in the fall in the case of spring bulbs or in the spring for summer-blooming bulbs.
Water just enough so the soil settles around the bulb.