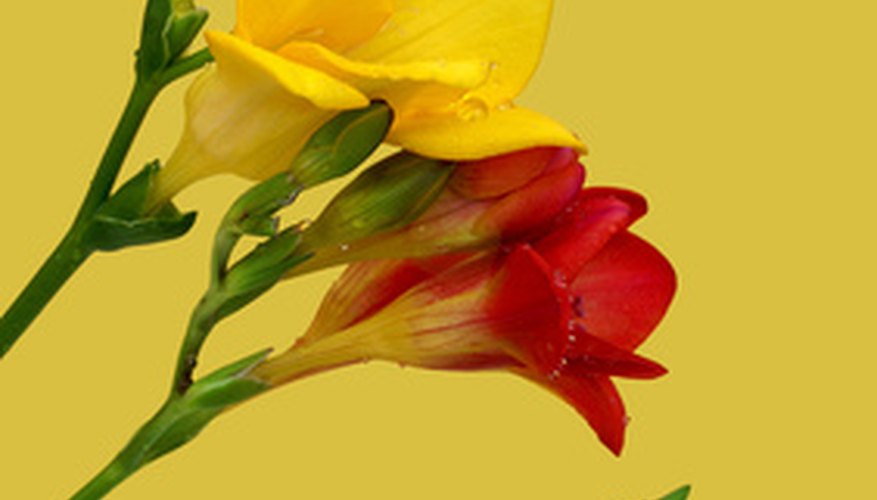 Freesia, a perennial flowering plant grown from bulbs or corms, produces fragrant flowers in shades of red, blue, purple, white and yellow during the spring and early summer. According to the U.K. Flowers and Plants Association, freesias rank as one of the most popular cut flowers in the world, with more than 110 million sold per year in the U.K. alone. Native to South Africa, freesias require warm growing temperatures and only survive winter in USDA hardiness zones 9 through 11. Elsewhere, gardeners must lift the bulbs and store indoors through winter to prevent cold damage.
Plant freesia bulbs during early fall in zones 9 through 11 or during spring in zones above 9. Choose an area that receives full sun and has well-drained, fertile soil. Spread a 2- to 3-inch layer of organic, weed-free compost over the planting site. Till the compost into the soil with a garden tiller to improve the soil's fertility prior to planting.
Dig a hole in the soil just large enough for the freesia bulb. Insert the bulb into the soil with the flat side down and the pointed side up. Cover with soil and apply 1 to 2 inches of water to initiate new growth.
Start watering freesia bulbs once new growth emerges from the soil. Apply water once every five to seven days to keep the soil moist at all times. Reduce watering frequency to once every two weeks after foliage dies. Soak the soil to a depth of about 3 inches at each application.
Feed freesia bulbs once per year during fall just after planting using a complete 10-10-10 NPK fertilizer. Consult the manufacturer's directions for proper application. Water lightly after feeding to release the nutrients into the soil.
Lift the bulbs from the ground during fall just after the first frost of the season in zones above 9. Cut the stems back to 1 inch high and allow the bulbs to dry out completely. Remove all old or shriveled portions and store the remainder in peat moss at a temperature of about 65 to 70 degrees Fahrenheit. Replant the following spring.