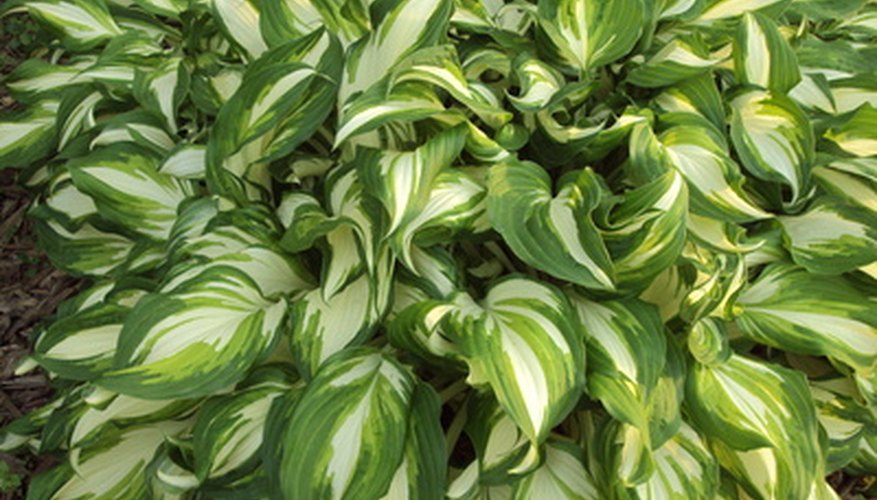 A shady landscape is a relaxing retreat during summer's hot temperatures. Shady yards may be challenging landscapes, but choosing the right plants make it easier. Pay attention to how much light reaches shady areas throughout the year in different seasons and be aware that ground beneath large trees and other structures may be dry and require extra irrigation to maintain healthy plants. Plant competition with tree roots is another consideration to keep in mind when landscaping in a shady area.
Textural Foliage
Prolific, bright-blooming plants tend to be sun lovers. Some species do well in part shade, such as hydrangeas (Hydrangea macrophylla), torenia (Torenia fournieri), fuchsias and impatiens (Impatiens wallerana), but shade-loving flowering plants are often subdued. Use textural interest as a focus and choose plants with interesting foliage instead. Ferns are easy to grow and thrive in the shade. In warm climates, philodendrons, caladiums and diffenbachias provide textural interest with their large, showy leaves, which are often colorful or variegated. Hosta species are popular hardy perennials with interesting foliage in colors from bright green to gold to blue tones. Hostas may be smooth-leaved, ruffled, solid or variegated, and they vary greatly in size, depending on the cultivar.
Ground covers
Ground covers are low-growing plant species used in areas where grass is not wanted or will not grow easily. Ground covers like English ivy (Hedera helix), confederate jasmine (Trachelospermum asiaticum), periwinkle (Vinca major) and Japanese spurge (Pachysandra terminalis) are useful turfgrass alternatives that reduce the maintenance lawn grass requires. See what local parks and businesses incorporate into shady areas of their landscape designs in your region and use those ideas in your yard. Local county extension offices are a good source of information regarding good choices for a particular locale.
Hardscaping
Hardscaping elements are the nonliving parts of a landscape such as gravel, driveways, arbors, patios, benches and other decorative and utilitarian features. Incorporate decorative hardscape features into a shady yard and create interest through materials and color combinations that work together with chosen shade-tolerant flowering plants, ground covers and overall theme. Decorate a shady backyard corner with a comfortable garden bench and plants of various textures and colors, or consider a small water feature like a fountain surrounded by graceful shade-tolerant foliage.