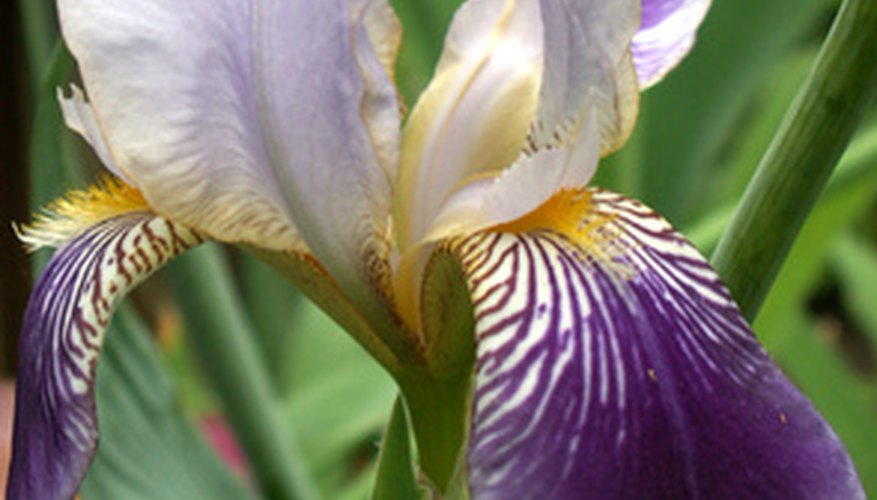 Irises are among the best-loved perennial flowers, due to their abundant beauty and minimal care requirements. Grown from a thick fleshy root called a rhizome, irises are easy to plant and can be divided over time to populate new beds or share with others. There are several different species in the iris family, with varying heights, colors and characteristics. The following is a list of several common types of irises and the colors available in each.
Bearded Irises
Bearded irises are named for the fuzzy "beard" which is seen on the petals that droop downward, which are known as falls. They come in a variety of sizes, ranging from 4 to 28 inches tall. Bearded irises are available in a variety of colors, including white, yellow, orange, pink, wine-red, blue and purple. You can also find some species that display blends of these colors.
Siberian Irises
The Siberian iris is a beardless flower that, overall, is smaller in scale and more delicate than the bearded iris. Its blooms, which appear in late may or June, may be blue, purple, wine-red, pink, white or yellow. This variety also comes in a wide range of heights.
Japanese Irises
The Japanese iris produces a large, uniquely flat flower which may be as large as 10 inches in diameter. Japanese iris colors include white, blue, purple, reddish-purple and lavender-pink. These blooms, which sit atop large 3-foot stalks, may be marbled or speckled with a contrasting color.
Crested Irises
Ranging in color from pale blue to violet with white or yellow bands, the crested iris is native to the Eastern United States. This variety thrives in partial shade and is petite in size. Crested irises prefer well-drained soils, and do well in a woodland garden setting.
Louisiana Irises
Native to the coastal South, Louisiana irises are actually a group of five different species that have grown to include hundreds of hybrids. Their flowers are white, blue, red or yellow, and vary in form and size. Although they are native to the deep South, Louisiana irises are hardy to Zone 4.
Resources