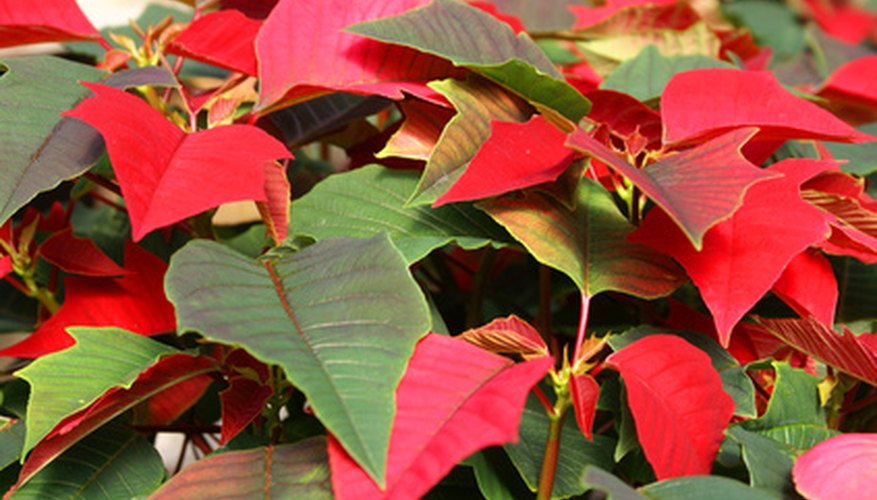 Plants that bloom during the Christmas season are a welcome addition to many homes, because they add a natural element to the holiday decor. Seasonal plants with fresh, colorful blooms can also brighten up drab, lifeless areas in many rooms. Available in a wide variety of sizes and colors, there are a number of flowering plants you can buy during the winter months that are bred to bloom during the holidays.
Poinsettia
According to the University of Illinois, poinsettias were introduced to the United States in the 1820s after the American ambassador spotted the colorful shrubs growing on the side of the road in southern Mexico. Since that time poinsettias have become wildly popular Christmas plants—accounting for 85 percent of all the potted plants sold during the holiday season—because of their stunning seasonal red blooms. Poinsettias require six hours of indirect daily sunlight. Poinsettias are extremely sensitive to cold, so they must be kept away from drafty doors and windows. They should be watered when the soil becomes dry.
Amaryllis
Amaryllis are flowering bulbs native to the tropics and subtropics of the Americas, typically grown as outdoor perennials or indoor houseplants. Because amaryllis can be forced to bloom indoors during the winter months, their large, colorful blooms, particularly the red and white varieties, are coveted by indoor gardeners during the Christmas season. They thrive in a warm location—ideally 70 to 75 degrees—and in a sunny, south-facing window when new growth appears. They prefer moist, but not wet, soil.
Christmas Cactus
There are three types of cacti commonly referred to as Christmas cactus. According to Iowa State University, however, true Christmas cacti, unlike other holiday cacti, produce 3-inch-long, crimson red flowers only from late December through March. Christmas cacti require indoor areas that receive short periods of bright sunlight in the fall and cool temperatures (under 65 degrees) in total darkness at night to bloom. They prefer moist, but not soggy, soil with cool temperatures of 65 to 70 degrees to prevent premature detachment of young buds.
Cyclamen
Cyclamen is a flowering plant native to the Mediterranean that blooms in the winter months. Ranging from 6 to 16 inches in height, cyclamen produce an abundance of dark green, heart-shaped leaves and colorful blooms on long stems. The bright red and white flower varieties are particularly popular at Christmastime. In order to bloom properly, cyclamen require bright indirect light, cool indoor daytime temperatures of 60 to 65 degrees and nighttime temperatures around 50 degrees. Temperatures above 70 degrees will prevent buds from forming. The cyclamen should be watered around the edge of the pot to keep the tuber or root from rotting. Deadheading or removing withering flowers will allow more blooms to develop.