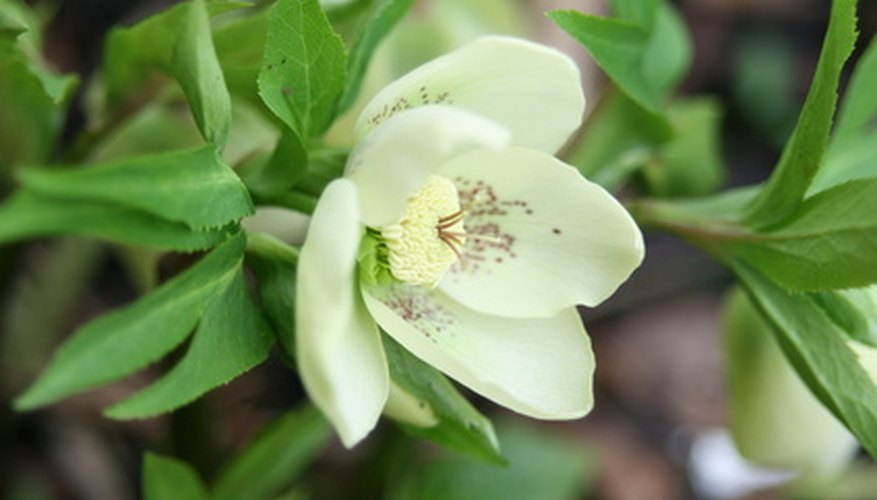 Winter plants jazz up a typically colorless landscape with their bright blooms and foliage. They grow in a wide range of shapes, sizes and colors to fit into any size garden. Planted in masses along a garden wall or grown in a container to flank a walkway, winter-blooming plants provide much needed warmth to the landscape.
Lenten Rose
Lenten rose (Helleborus odorus 'Double Queen') is a winter-blooming perennial that is suitable in USDA zones 4 to 9. They grow in upright clumps that reach a height up to 3 feet and a spread of 1 to 3 feet. Lenten rose double blooms are nodding and appear to be bowing down to the garden for an attractive display. The bloom colors grow in shades of pink and white to provide color to the winter landscape. Lenten rose has foliage that is deep green and leather-like that keeps its color all winter. A hardy perennial winter plant, Lenten rose are deer- and frost-tolerant. They grow best in full to part shade and well-drained soil that is neutral to alkaline. They also require humus-rich soil with a moderate amount of water.
Witch Hazel
Witch hazel (Hamamelis × intermedia 'Arnold Promise') is a winter-blooming shrub that grows in USDA zones 5 to 9. It has a vase shape that is upright with ascending branches. Witch hazel grows up to 15 feet tall and reaches a maximum width of 15 feet, creating a commanding garden presence. The large, yellow finger-like flowers on witch hazel bloom in winter to create color to the garden. Witch hazel is an ideal plant to grow in groups along the landscape like a backyard patio or as a specimen shrub within the front yard. Witch hazel grows best in full sun to part shade and well-drained, moist soils that are acidic to neutral.
Winter Daphne
Winter Daphne (Daphne odora 'Marginata') is an attractive evergreen winter shrub with a rounded form. It grows best in USDA zones 7 to 9 and has a moderate growth rate. Winter Daphne reaches a maximum height of 6 feet with a spread of 3 to 6 feet. The rose to pink blooms on winter Daphne open to a white flower in winter to last until spring. The foliage on winter Daphne is deep green and margined with a thin strip of yellow for an interesting contrast to the shrub. Winter Daphne grows best in full sun to part shade and well-drained fertile soil that is acidic to alkaline. It does not tolerate dry soil and resents being transplanted.