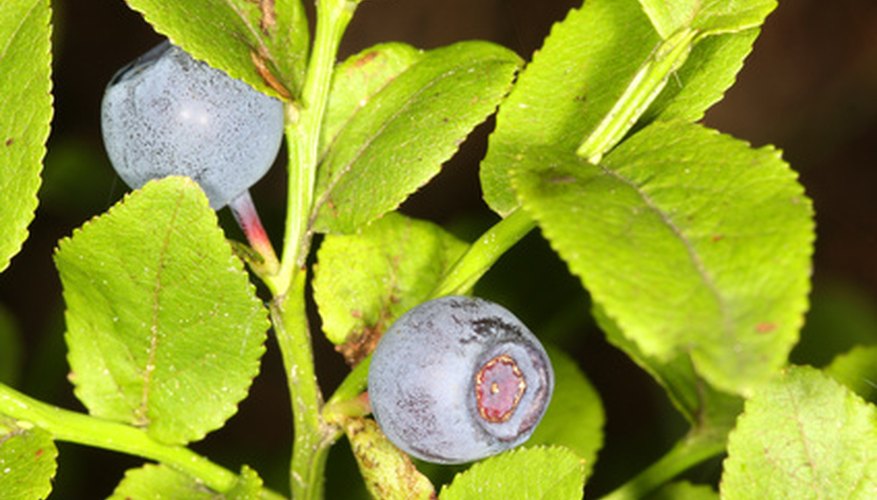 Blueberries are delicious and incredibly healthy fruits, but unfortunately they also tend to be expensive. If your family enjoys blueberries, growing them in your garden can help to stretch your food budget. The bushes are very particular about soil conditions, making them difficult to grow in some areas. It is also a challenge to grow blueberries if you are cramped for space. It is possible, however, to grow them in almost any situation by planting the bushes in containers. Dwarf varieties are the best choice, as most of the larger bushes will not grow in pots.
Select a planting container that is 2 feet wide and 2 feet deep. It should have several drainage holes in the bottom to prevent over-watering. Place the container its permanent location before planting the blueberry bush, as it will be difficult to move once filled.
Fill the container halfway with two parts potting soil and one part peat moss. Gently squeeze the sides of the blueberry bush's growing container to loosen the root ball enough that it slides out easily. Loosen any compacted roots with your fingers.
Place the plant into the container with the roots 4 inches below the rim. Finish filling the pot with the growing mixture, taking care not to cover the roots more deeply than they were covered in the original growing container.
Add a 1-inch layer of mulch over the top of the soil. Water until the soil feels moist, but not wet.
Water the blueberry bush anytime the soil looks dry. You will likely have to add moisture every day during hot weather.
Feed once each month with rhododendron fertilizer, beginning in spring. Take a break from fertilizing in July, then feed the plant again in August. Stop feeding from September until spring.
Wrap the container in a blanket in late fall to protect the roots from the cold.
Prune the blueberry bush beginning in its third growing season. In early spring clip off the oldest branches and remove any spindly, unhealthy looking foliage. Remove one-third of the remaining branches to promote new growth.