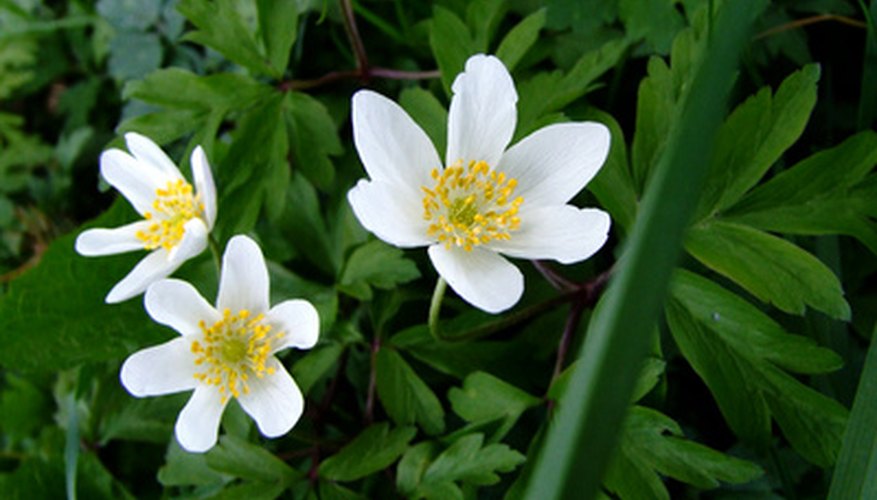 Growing the Japanese anemone provides the gardener not only color in the landscape, but striking cut flowers as well. Japanese anemone grows from 1 to 5 feet tall and provides flowers, 2 to 4 inches in diameter. Flowers can be single or double in shades of pink and white. Growing Japanese anemone takes a bit of patience in the beginning as it is slow to establish. Hardy in USDA Zones 5 through 8, the Japanese anemone is not started from seed, but from starter plants purchased at a nursery or garden center. Set your plant out in spring.
Choose a planting location for the Japanese anemone. It requires morning sun and afternoon shade. The east side of the house is an ideal location, according to Gerald Klingaman, retired University of Arkansas horticulturist.
Add a 3- to 4-inch layer of compost or well-rotted manure to the soil in the planting area and, using the gardening fork, mix it to a depth of 12 inches. Level the area with the rake.
Dig a hole the same depth and twice the diameter of the pot in which the Japanese anemone is growing. Tip the pot on its side and gently slide the plant out. Place the roots in the hole and backfill with soil. Tamp around the base of the plant with your hands to remove any air pockets in the soil.
Apply a 3-inch deep layer of mulch around the Japanese anemone, keeping it 2 inches away from the plant.
Water the Japanese anemone until the soil is saturated and keep the soil moist, but not soggy, at all times.