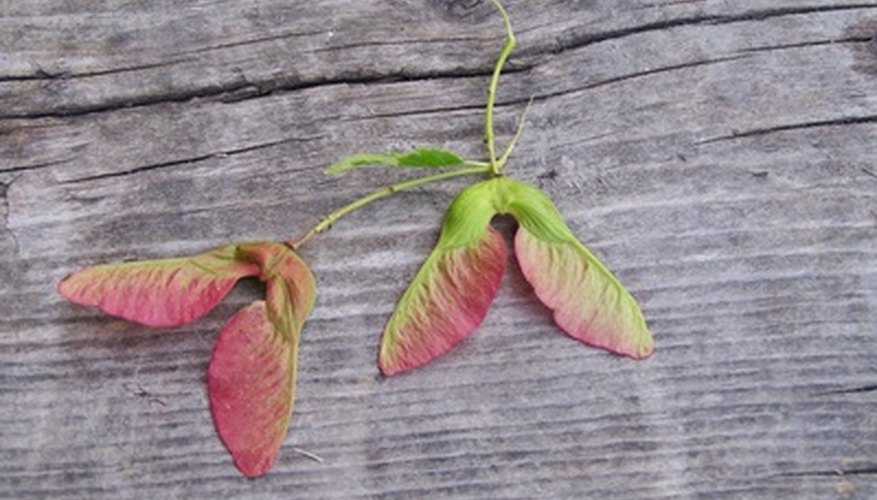 If you have a maple tree, then you most likely have seedlings and small trees that have popped up here and there throughout your yard and garden, and perhaps in your neighbors' lawn or garden as well. Naturally, maple trees self propagate, but trying to grow maples where you actually want them to grow can seem like a challenge. However, if you know what maple seeds need to germinate (usually some cold weather) and know what not to do (for example, shed the pod), then you too can plant maple seeds and successfully grow them into mature trees exactly where you want them.
Gather the seeds from the ground in the fall after they turn brown. The seeds are in pods, which are commonly called "helicopters" because two pods are connected to one another and spin as they fall. Leave the seeds inside the pods. Do not take them out.
Choose a spot to plant the seeds. It should receive at least six hours of sunlight each day. Also, keep in mind how large the maple will grow when determining a spot. Each maple variety matures differently in size, but some can grow as large as 100 feet tall and 75 feet wide
Plant the seeds in the fall after you collect them. Alternatively, place the seeds (still in the pods) in a plastic baggie or container (for example, a coffee can) with holes punched in the lid for air. Fill it with 1 part peat moss and 1 part sand. Moisten the soil and set it in the refrigerator to stratify until spring when you can plant it outdoors.
Plant the seeds ¼ to 1 inch deep in slightly moist soil. Plant them about 4 to 6 inches apart from one another and thin out the weaker trees as they begin to grow and mature (which may take several years). It is better to plant more seeds than you need because not all will germinate.