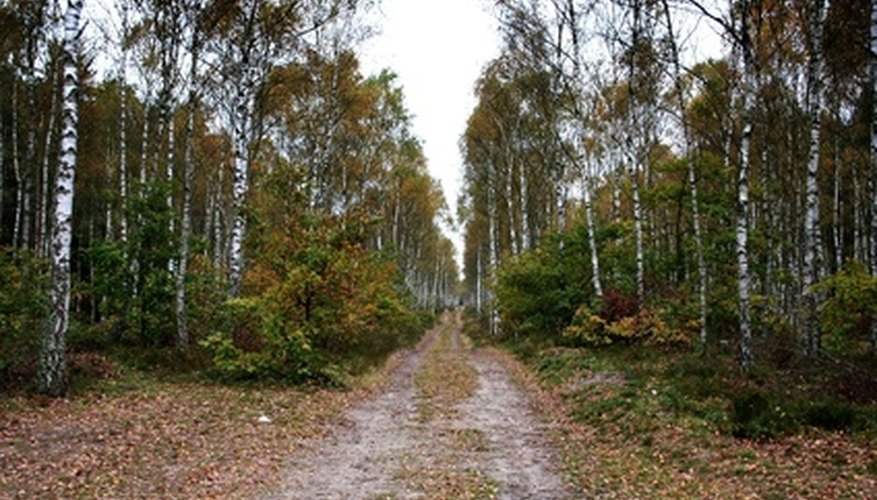 Areas in partial shade, says Iowa State University Department of Horticulture's Richard Jauron, receive three or four hours of direct sun each day. Working with your yard's partly shady areas is an opportunity to use plants that suffer in full sun. They include several trees with eye-catching ornamental features. These trees bring graceful form and vibrant foliage color to part shade.
Striped Maple
Striped maple, Acer pensylvanicum, is a small--20- to 40-feet high--deciduous tree native to shady woods from Maine to Georgia and west to Minnesota. It's hardy to minus 40 degrees Fahrenheit. The young trees' distinctive, smooth, white-striped green bark makes them desirable ornamentals, according to the Lady Bird Johnson Wildflower Center. The vertical stripes fade as the trees mature.
Deer, moose and other wildlife browse on the bark in winter. Green leaves become lemon-colored in autumn. In April and May, clusters of greenish-yellow flowers hang from the branch ends. Plant striped maple in part shade, advises the Missouri Botanical Garden. It does best in a cool location with well-drained, moist acidic (pH below 7.0) soil.
Paper Birch
Hardy to minus 50 degrees F, paper birch, Betula papyrifera, is native to Greenland and Canada and as far south as the Appalachian Mountains of North Carolina. Standing up to 70 feet high and 50 feet wide, it's easily identifiable from its papery, white outer bark. Surface bark peels away to reveal pale orange inner bark. Bark on older trees has black splotches. Single or multi-trunked trees have oval, deep green leaves that provide bright yellow fall color. Paper birch, advises the Missouri Botanical Garden, makes a striking planting mixed with evergreens in cool climates. It seldom lives long where summer temperatures consistently exceed 75 degrees Fahrenheit. Plant it in partial shade and moist-to-wet soil.
European Beech 'Purpurea Tricolor'
Deciduous "Purpurea Tricolor," according to the Missouri Botanical Garden, is a European beech cultivar. Small--up to 30 feet high and 20 feet wide--it has variegated foliage that changes color throughout the growing season. Spring leaves are purple with pink edging, becoming greenish-bronze with lighter pink edges that fade to white. Fall leaves are solid golden bronze. The tree's inconspicuous green flowers appear in April and May. "Purpurea Tricolor" is hardy to minus 30 degrees Fahrenheit. Largely disease and pest resistant, it may develop beech scale or attract Japanese beetles. Use it as a specimen planting in part shade and well-drained, moist--never wet--deep soil. It suffers in hot, humid climates and may get leaf scorch in full sun.