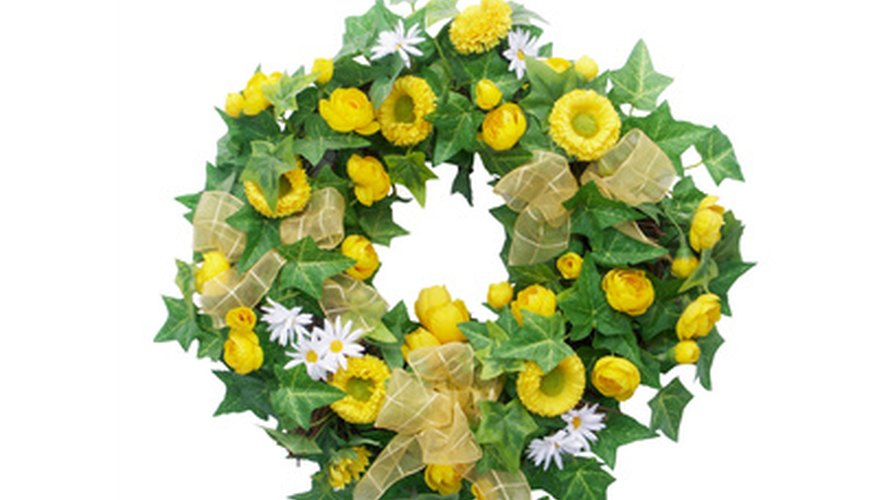 Making flower wreaths with garden-fresh flowers and greenery provides a sense of pride and accomplishment, not to mention it saves money compared to purchasing floral wreaths from a florist. Use flower wreaths to decorate a front door, hang over a mantle or give as gifts. Fresh flowers and a few basic floral supplies are all you need to create a professional-looking wreath.
Make a hanger for the wreath using a piece of heavy gauge wire approximately 18-inches long. Bend the wire in half like a bobby pin so the ends of the wire are about 3 inches apart. Push the ends of the wire down through the top of the wreath until about 3 inches of the wire ends poke out the other end. Bend the ends of the wire so they face outward facing in opposite directions and then push each end up into the wreath to secure.
Moisten a 10- to 12-inch foam wreath by spraying with water or holding it under a faucet of running water. The wreath should be moist, but not have water dripping off it. If it becomes too saturated, lay it on a dish drainer to let the excess water drain off.
Select and cut the flowers you wish to use in the morning, before the flowers have opened too wide and the hot sun has caused them to wilt. Cut the stems to 1 inch in length at a 45-degree angle. Choose greenery to cover the wreath with.
Lay the moistened wreath on a work surface and insert the greenery over the entire surface of the wreath. Cover the front and sides only of the wreath so the back will lie flat against the surface where it is hung.
Insert the flowers into the wreath over the greenery, spaced evenly apart over the front of the wreath. Add a few smaller flowers in between the larger ones, if desired.
Finish the wreath by adding a piece of ribbon woven around it. Cut a 24-inch long piece of 1-inch wide ribbon in a coordinating color. Hot glue one end of the ribbon to the back of the wreath and bring the ribbon through the center of the wreath and wind it loosely over and back around the wreath until it is all the way around the wreath. Cut off excess ribbon and hot glue the end to the back of the wreath.