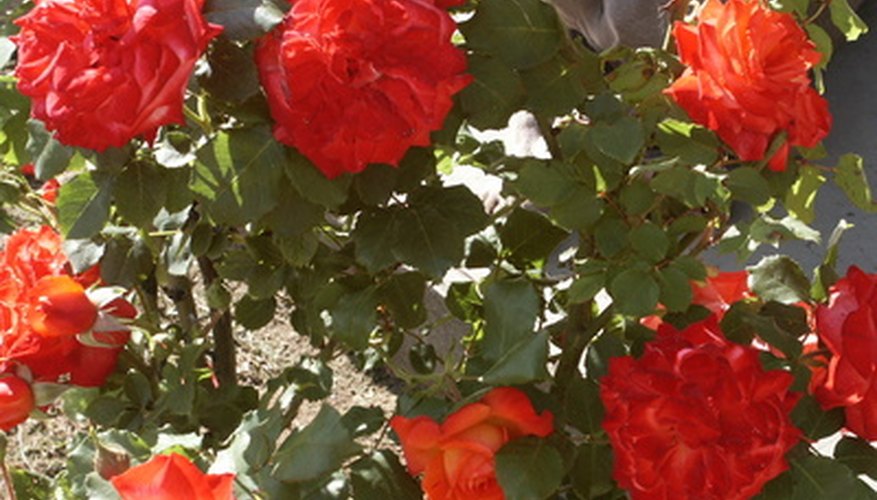 Roses take part in the landscape as climbers, trailers or shrubs. The plants and their flowers bring a fashionable accent to the garden, adding beauty to the front of the house as a foundation plant, providing a sweet scent along a pathway or forming a living fence. Knockout roses, also spelled Knock Out, first hit the market in 2000.
History
Rose breeder William Radler developed the Knockout rose that first became available in the United States in 2000. The disease-free Knockout is described as carefree, and requires no pruning or deadheading, though the bushes can be pruned and deadheaded if desired.
Characteristics
Tolerant of heat and growing to about 4 feet tall and 3 feet wide, Knockout roses are cold-hardy in U.S. Department of Agriculture zones 4 through 9. The Knockout rose shrub produces red blooms from spring to the first frost.
Planting
Choose a full sun, well-drained location for Knockout roses. The Knockout can grow in almost any soil with a pH level between 6.0 and 6.5--the most optimal for growth. Water every seven to 10 days through the first year if there's no rainfall.
Care
Cut Knockout roses to about 12 inches from the ground in the spring. Cutting to the ground will control growth and remove any stems damaged by winter winds or snow. Apply 2 to 3 inches of mulch, like pine chips or leaf mold, around the shrub, keeping the mulch about 2 inches away from the main stem. Mulch will help retain moisture and retard weed growth.
Drawbacks
The blooms of Knockout roses are fragrance-free, though the Double Knockout variety does carry a slightly spicy scent. Cut blooms from Knockouts are short-lived in a vase. Japanese beetles may attack the shrub.