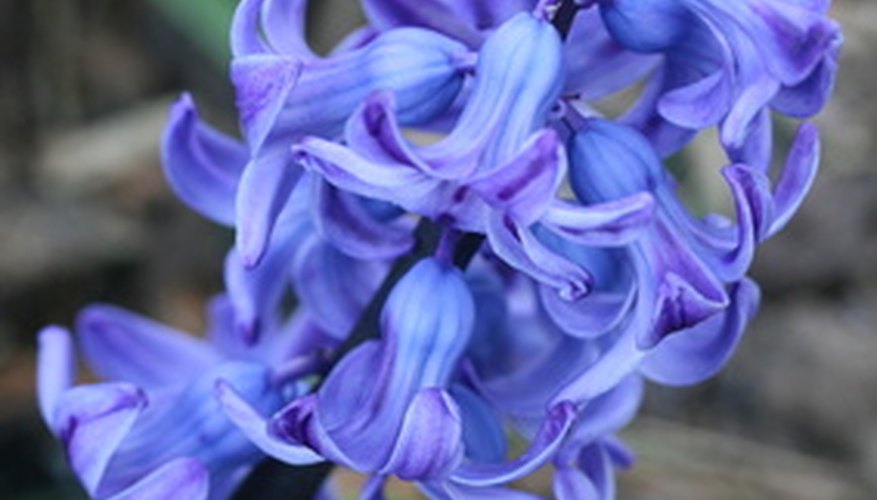 Hyacinth bulbs produce fragrant flower spikes in colors of pink, purple, lavender, red and white. The small grape hyacinth produces smaller bluish-purple flowers. All varieties spread rapidly over the course of a few years. Grape hyacinths require transplanting every two years. Bulbs withstand dividing and replanting to new locations well. For best results dig up the bulbs and replant to their new planting site when the foliage begins to die back in the mid to late summer months.
Dig around the bulbs, at least 4 inches out from the dying foliage and all the way around. Dig downward and under the plants while circling the plant.
Pry the plants and bulbs gently from the soil in one large clump. Crumble away the soil from the bulbs using your fingers.
Break the large bulb clusters apart. Gently remove the small clinging bulbs from the larger, parent bulbs.
Discard the loose foliage. Remove any loose roots, and discard from the bulb.
Dig a hole that is 3 to 4 inches deep and 4 inches in diameter. Add aged manure to the soil until it has a crumbling consistency.
Place two bulbs into the hole, 2 inches apart, and gently cover with soil. Press the soil downwards to remove all air-pockets.
Apply 2 to 3 inches of mulch to the soil's surface to offer wintertime protection, keep the soil moist and help keep weeds reduced. Water the bulbs until the soil feels moist, but do not drench.
Things You Will Need
Garden trowel

Aged manure

Mulch (peat moss or bark chips)
Resources