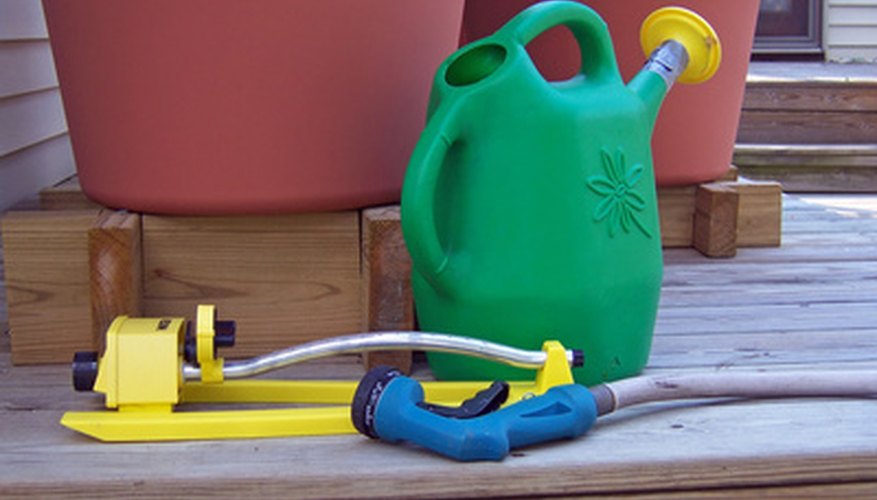 Kentucky bluegrass is a very common grass planted in many areas of the United States and elsewhere. It's a sunlight-loving, cool season grass with a thirst for adequate water. This grass does not set deep roots and will brown and grow dormant during drought. If you don't mind a higher water bill, you can keep a Kentucky bluegrass lawn green with a strict watering schedule.
Water newly planted Kentucky bluegrass frequently to keep it moist. The Texas Cooperative Extension recommends watering newly planted seed two to three times a day for the at least the first two weeks, tapering off after grass emerges. You'll need to use low water pressure to keep from washing the seeds away--use a sprinkler, but on a low setting.
Place a rain gauge in your lawn to measure how much water the grass actually receives, whether it be from rain or sprinkler.
Use a sprinkler, with regular water pressure, when necessary for established grass. Kentucky bluegrass requires up to 2 inches of water per week to stay green during warm weather, according to the Texas Cooperative Extension, and at least 1 inch should be supplied during a single watering to help the lawn establish good, deep roots. Avoid shallow, frequent watering, opting instead for deep watering once or twice a week.
Things You Will Need
Sprinkler

Rain (water) gauge
Tip
According to American-Lawns, Kentucky bluegrass enjoys a lot of regular watering but can survive periods of drought by going dormant. The University of Nebraska-Lincoln advises that giving dormant bluegrass lawn at least 1/2 inch of water every two weeks will keep it alive (although not green).
Warning
If you allow the grass to grow dormant, treat it with extra care. The University of Nebraska-Lincoln warns that heavy foot traffic and other wear to the dormant grass can cause permanent damage.