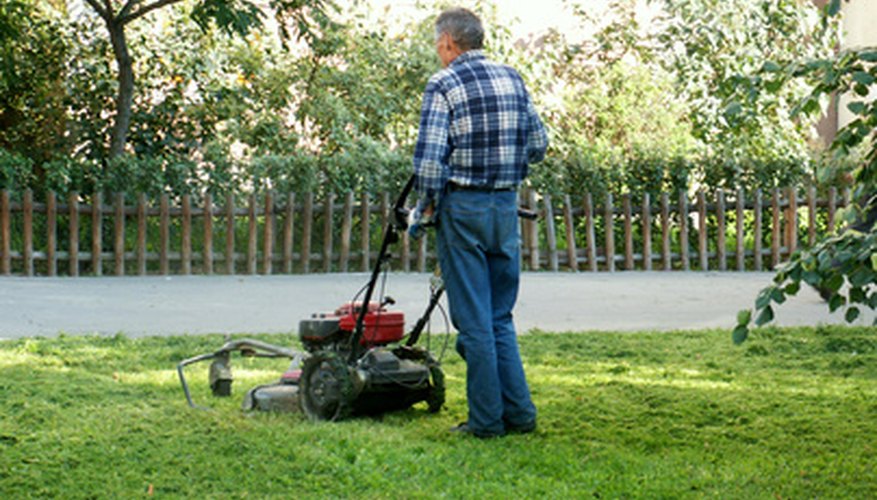 Lawn mowers, indispensable tools for keeping your lawn manicured, play a critical role in maintaining general lawn health and maintenance. Not all lawn mowers are made alike. In May 2010, "Consumer Reports" magazine tested dozens of lawn mowers and only a handful emerged as the best in their categories. Don't waste your time on other models, which may be cheaper but may not offer the optimum performance.
Toro 20194 Super Bagger
"Consumer Reports" recommended Toro's 20194 model for a push lawn mower. It boasts a Honda-manufactured engine with a cast aluminum body and a 21-inch cutting width. Its self-propelled motor senses your walking speed and adjusts to move at a comfortable pace. The magazine's reviewers especially liked its advanced features like a blade override system, where the engine is kept running, but the blade stops spinning. You can step away from the mower without having to restart it.
Cub Cadet 11A-18MC
"Consumer Reports" called the 139-cc engine version of Cub Cadet's lawn mower line its "Best Buy" in the push mower category, noting model 11A-18MC is a good value for customers. The mower has a 19-inch-wide cutting area under its steel body with the ability to discharge trimmings through a side port or into a bag. Cub Cadet guarantees an easy start of the mower's engine, saying this model will start within two pulls of its starter cord. The magazine's reviewers specifically cited the mower's smooth handling.
Black & Decker CM1936
Electric mowers like the Black & Decker CM1936 have several advantages over their gasoline-powered counterparts, including a push-button start--no more pulling or straining at a starter cord--and quieter operation. This model also doesn't discharge greenhouse gas emissions or exhaust fumes. "Consumer Reports" listed the CM1936 as its recommended electric mower. Its internal battery can power the device long enough to mow up to 1/3 acre with its 19-inch deck. Its polymer deck makes the entire device relatively light.
Toro 20332 Personal Pace
For value-conscious customers, "Consumer Reports" called the Toro 20332 a "Best Buy" for combining high-quality materials in a low-cost package. The device features a 22-inch cutting deck designed to mulch lawn trimmings instead of bagging them, ensuring a potentially healthier lawn. The Briggs & Stratton-designed engine requires no priming or choking for easier starting. It's self-propelled, too, so you don't have to push it up hills.