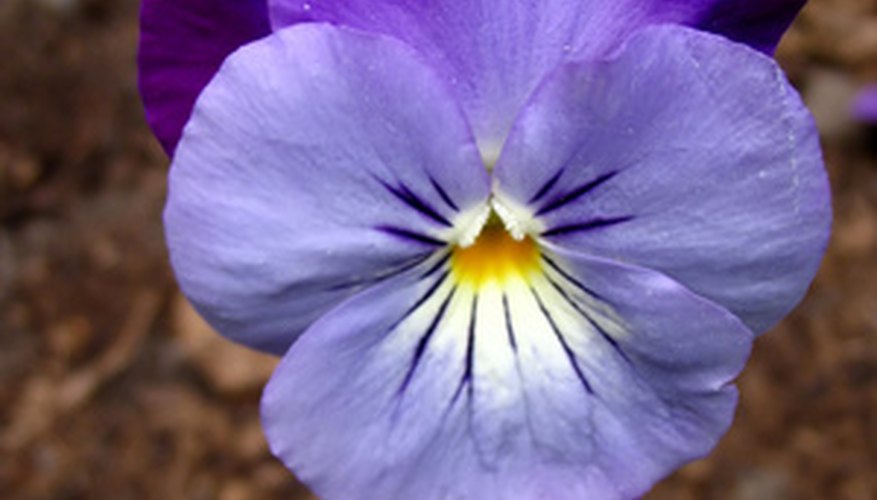 Pansies (Viola x wittrockiana) are grown as summer annuals in cool climates, but they are used as winter annuals in hot climates. They are available in white, gold, purple, red, rose, maroon, orange and violet. Some varieties have two-toned faces and crinkly edges. Large varieties have blossoms that are 4 inches across. There are more than 300 varieties of pansy flowers. Look for varieties with improved heat tolerance, unusual colors and large flower sizes. The greatest selections of pansies are available by seed.
Remove all the grass, weeds and rocks from your planting area. If you are revitalizing an old flower bed, remove the dead plant debris to prevent the spread of plant disease.
Loosen the soil to the depth of 12 inches with a shovel. Break the soil up into gravel-sized pieces with a garden hoe. Mix in a 1-inch layer of sand to the planting area if you have poor-draining soil. Pansies do not like wet roots.
Spread a 3-inch layer of compost and well-rotted manure over the soil. Pansies grow well in areas with a lot of organic material. Mix your soil amendments in to the depth of 12 inches.
Sprinkle water over the soil until it is damp. This will make the seeds stick to the soil. Dust the soil with pansy seeds.
Cover the seeds lightly with vermiculite. This gives the seeds access to a high amount of light and keeps the developing roots from drying out. Mist the area with water. In temperatures between 65 to 70 degrees F, the pansy seeds will germinate in seven to 10 days.